You know the iPhone is making an impact on the gaming community when an iPhone game developer's CEO kicks off the Game Developer Conference (GDC). Neil Young, founder and CEO of Ngmoco, had the spotlight presentation on the first morning of GDC entitled "Why the iPhone has changed everything."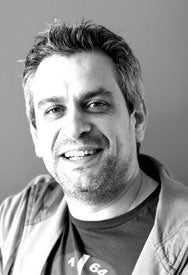 His speech echoed his sentiments on the iPhone's innovative qualities discussed at Thursday's iGames Summit.
First, Mr. Young discussed the mobile platform war between the Nintendo DS and the Sony PSP. Mr. Young believes that the Nintendo DS beat the PSP not on specs, but on functionality. This enabled more developers to utilize the Nintendo DS platform and reach a wider audience. He then theorized how Nintendo might use the native functionality of the iPhone. In addition to offering content exclusive to the iPhone, Young believes that Nintendo would concentrate on creating games with WiFi versus, Facebook integration, and online leaderboards.
So what's next for the iPhone?
In all likelihood, much of what Nintendo's presumptive focus will be taken up by different developers. Young believes that the iPhone's social qualities will affect all apps and there will be likely a whole new slew of online multiplayer apps. Network integration will also be a valuable feature for developers and gamers alike.
But the next direction of iPhone games is not only going to feature social elements prominently; instead Neil Young believes they will "leverage every surface of the device" including, the contact list, camera, and many other previously underutilized features.
As an example, the presentation then turned towards a brief recorded demo of the only first person shooter I've seen for the iPhone to date: "LiveFire." Thanks to the iPhone 3.0 SDK, a player can use the iPhone's use of push notification technology to request a friend to join the game. This social element makes LiveFire a mobile cousin to not only old-school shooters like Doom, but modern social FPSs like Call of Duty 4. The game also features purchasable content like guns to give the player more firepower and developers a new source of revenue.
Essentially, Neil Young sees the iPhone as bringing together console, social, and PC gaming into one platform. The versatility of the iPhone not only makes it a great device for gamers, but also a ripe opportunity for budding developers.
"The App store has created a level playing field," said Young.
It only costs $100 to purchase a developer kit from Apple and so pretty much anyone can get into the market. Young explains that Apple has "fostered an ecosystem … there are over ten thousand developers out there" in addition to over twenty-five thousand applications. People are understanding they have a chance to create a hit and are taking a chance by putting their product out there.
But how does a developer survive in this ecosystem? Or, if you've already created a successful application, how do you repeat that success? Young believes that the answer is simple: you must find your "super power." Developers should ask themselves what it is that made their initial game unique and what they can offer players in terms of a unique gaming experience. He believes strongly that despite the saturated market, there has "Never been a better time to be a developer."
Check back here for more updates from GDC.