Despite the long history of jailbreaking on the iPhone—the ability to hack your phone to install third-party apps pre-dates the App Store—Apple's officially provided solution has always offered a few features that jailbreaking couldn't match. The new program InstallerApp aims to eliminate some of those advantages.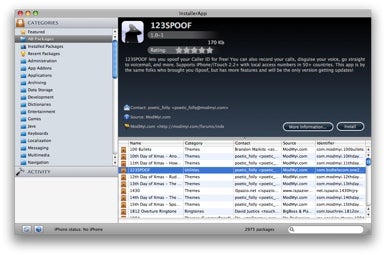 RipDev's InstallerApp is an application for your Mac (soon to be available for Windows PCs as well) that allows you to download iPhone apps on your computer and transfer them to your device over a USB connection. If that sounds a bit like iTunes for jailbreak apps, well, that's because it is.
Fire up the app and you'll get a list of the thousands of iPhone apps available from non-App Store sources—the list should look pretty familiar, as the makers of InstallerApp also make the popular Installer iPhone app that's installed by most common jailbreaking tools (InstallerApp also supports Cydia, another popular source for jailbreak apps).
Via InstallerApp you can search for programs, browse by category (though there are some duplicates due to misspellings—such is the nature of the market, though), and, yes, install applications on your phone. InstallerApp will also check for updates to programs you've already installed on your iPhone
The kicker for InstallerApp is the developers' claim that you can use it to install the iPhone Installer app without jailbreaking your iPhone, which would make it possible for non-App Store applications to live in peace alongside those distributed via Apple's official means. Looks like the jailbreakers have taken another step towards providing a viable competitor to the App Store.
InstallerApp requires Mac OS X 10.5 or later and an Intel-based Mac. Right now it only supports the original iPhone or iPhone 3G, not the iPod touch. A full license costs $7; without it, you can use app, browse the repository, and use it to install the Installer app on your iPhone, but you can't install other apps on your iPhone.