I'm a sucker for music apps on the iPhone. I've got virtual guitars, pianos, and theremins. I even have the obligatory Ocarina app ( ). One thing these apps have in common is that they let you turn your iPhone into a musical instrument. That's why I was intrigued with the following trio of iPhone apps from TrialAndErrorDevTeam: Guitar FX Echo, Guitar FX Chorus, and Guitar FX Deluxe. Rather than turning your iPhone into a guitar, these apps use your iPhone to turn your acoustic guitar into an electric guitar.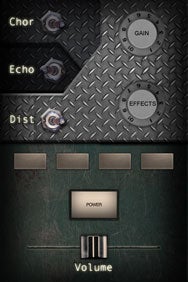 Here's how they work. First, put in your earbuds, open the app and tap the Power button. (Hint: for best results either use your iPhone earbuds or some other brand with an integrated microphone.) Next, adjust the settings—you have a slider for Volume, a knob for Drive, and another knob for Effects. (The knobs only go to 10—sorry, Nigel Tufnel.)
Then, you start playing. The app picks up the sound of your acoustic guitar via the microphone from the headset of your iPhone or second-generation iPod touch. It takes that sound and electrically transmogrifies it. The idea, TrialAndErrorDevTeam says, is to make your acoustic guitar sound like an electric guitar plugged into an amplifier.
The Chorus and Echo apps add—you guessed it—chorus and echo, while the Deluxe app does three in one—chorus, echo, and distortion which you can use alone or mix in any combination. Each app provides four buttons for storing combinations of settings.
The first app I tried was the Echo. I plugged in, fiddled with the settings a bit and tried some of Rush's "2112: Overture." Not bad. I then fired up the Chorus app and tried a bit of Jimi Hendrix's "Little Wing." This time, I was less than impressed. All I could muster was either a clean amplified sound or something that was more reminiscent of a flanger than a chorus. I then opened up the Deluxe app, turned on the Chorus and Distortion and launched into Robin Trower's "Bridge Of Sighs." The chorus effect seemed slightly better here, and it sounded OK when blended with the distortion, although I found the distortion to be a little hard to control.
For what these apps do—and if you're willing to spend quite a bit of time experimenting with their settings—the Guitar FX programs are fun novelties. Of course, there's no way they're going to tempt me to give up my Stratocaster and Fulltone pedalboard. But I was surprised—especially with the Deluxe app—at how well the blend of the natural acoustic guitar and electric effects worked, although I think a little refinement of the distortion and chorus is in order.
A useful addition would be the ability to play along with the songs on my iPhone. Even cooler would be a combination of hardware and software that would let me plug my electric guitar directly into my iPhone and use it as a practice amp. (With the recent iPhone 3.0 software announcement, it sounds like this might actually be a possibility now. Any iPhone developers out there listening?)
All three apps are compatible with any iPhone or second-generation iPod touch running the iPhone 2.2 software update.
[Brian Beam is a guitar player, Robin Trower fan and web developer at BOLD Internet Solutions, living somewhere near Kansas City.]