If you've been holed up in darkness for the past couple weeks since the release of iTunes 8.1, you can finally come out: the light of Genius will now shine down upon your television and movie collections. The mysteriously (or not so mysteriously) missing feature is at last online and it's happily telling you what you might want to download if you really dug last week's episode of, say, Life.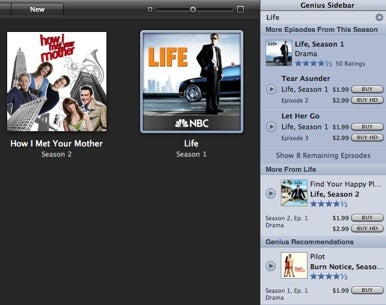 As you might expect, if you've spent any time with Genius in a musical setting, the feature's pretty straightforward. If you click the Genius button while you've selected a TV show, it'll recommend other episodes of that TV show, both from the season you've selected as well as others (thanks, Genius), before providing you a list of other shows you might like. Each recommendation has a link for purchasing the episode (in SD and HD where available) and a play button for watching a clip.
I couldn't check out the movie option since—and I know this will shock and sicken some of you—I've never actually bought a feature-length movie from iTunes. I have, however, purchased a couple of short films, but Genius apparently didn't have any data for them, so instead it gave me a list of the top-selling (and top-rented) movies on the store, along with rental and purchase links and a button to play the trailer (how did they know I wanted to buy Twilight!?).
Apple says Genius's recommendations will improve over time as more data is collected, but I'm curious to see whether the TV and movie suggestions work as well (or, depending on your opinion, as poorly) as those for music, given how differently people consume the two.
Now, if only Genius could tell me what kind of wine goes best when spilled on a blue shirt during the amazed yelling that usually accompanies watching an episode of Lost.