At a Glance
Expert's Rating
Pros
Editing options
Color touchscreen LCD
Versatile paper handling
Cons
Orangey flesh tones
No battery option
Our Verdict
HP's Photosmart A646 compact photo printer offers a few surprising features for its midrange price. Compared with Epson's PictureMate Charm PM 225 ( ), which costs the same, the Photosmart A646 offers more versatility, but it falls slightly short in speed, print quality, and ink costs.
The Photosmart A646 has some impressive features. Most snapshot printers take only one size of media, but the Photosmart A646 accepts three: 4 by 6 inches (the size of our test photos), 4 by 12 inches (panoramic), and 5 by 7 inches. On the inside front panel are two media slots for Memory Stick, SD Card, and XD-Picture Card. The unit also has a PictBridge port and built-in Bluetooth support. Interestingly, the printer chassis is made from more than 30 percent recycled plastic; the carrying case is constructed entirely from recycled plastic bottles. However, while the case design implies portability, HP doesn't offer an optional battery pack.
On the display panel is a 3.45-inch color touchscreen LCD, flanked by touch-sensitive controls. You can browse and select menu options using your finger or the included stylus. It's fun to try the many available photo enhancements; you can also create a doodle overlay or apply a posterized or retro look.
HP makes the Photosmart A646 easy to use. The Setup menu contains an extensive set of animated and text-based help topics. Operating on a Mac, the printer is as easy to set up as it is to print. After installing the printer driver, you can use the printer's touch screen and stylus to navigate through the many editing options such as creating greeting cards, panorama prints and photo stickers. However, it seems like these options are more accessible when printing directly from a memory card rather than on the Mac.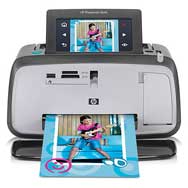 The Photosmart A646 also has the option of knowing how many more prints the cartridge roughly has left, informing you when it is a good time to purchase new ink. The loading of the paper tray can be a bit confusing, as it looks like you have to actually dismantle the printer just to put in more paper. However, the ease in which the touch screen's interface seems to make up for all that.
The Photosmart A646 performed pretty well in our tests. It kicked out each of our test photos in less than a minute at normal settings. Aside from flesh tones that were orange enough to be jarring, most colors were bright and well balanced. All images showed a nice level of depth and detail.
For the best possible ink costs, buy the combination ink/paper packs. The unit comes with an introductory, 15-print ink cartridge. A replacement 50-photo ink cartridge costs $24, or a ridiculous 48 cents per print—not counting paper. HP's 140-sheet paper-and-ink combination pack, on the other hand, costs $47, or 32 cents per print.
The print cartridge is housed in a front compartment. Simple color labels inside the cover illustrate how to remove and insert the cartridge, but it can still be tricky. After my first attempt, an error message appeared on the LCD, and an animated clip showed how to insert it properly.
Macworld's buying advice
Is the HP Photosmart A646 the snapshot printer for you? Weigh the trade-offs. It falls a little short on flesh tones and ink costs. On the other hand, it lets you print on more sizes of paper than the competition, and it offers lots of fun, on-board editing options.
[Susan Silvius is a freelancer writer. Macworld Lab's Lynn La contributed to this review.]