Fast Tap Camera from Soneso allows you to tap anywhere on the iPhone's screen to snap a photo—a helpful capability, particularly if you're taking a shot of yourself or trying to hold the device still in low light.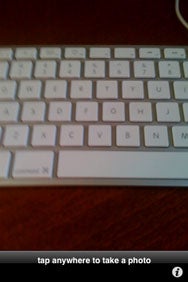 But that newfound capability comes with a price. Once you tap on the screen, it can take up to 10 seconds for the image to be saved to the camera roll. (In contrast, saving an image shot with just the built-in camera app takes just a second or two.) To offset this delay, Fast Tap Camera gives you the option of taking up to four full quality (or up to 50 low-resolution) shots before saving. The app still takes almost as long to save them afterwards; it's just saving you some wait time between shots.
It's also worth noting that those low-resolution shots—featuring 320-by-480 resolution—are not particularly useable. The full-resolution images shot by Fast Tap Camera are normal iPhone quality.
Be aware that photos taken with Fast Tap Camera do not save EXIF information about the photo. (This is not the developer's fault—currently no third-party apps have access to this data from the camera.) With the increasing popularity of geo-tagging photos—a major feature of iPhoto '09 and popular on photo-sharing sites like Flickr—images captured with Fast Tap Camera will not show this info. That alone is reason enough for me to stick with the built-in camera for most shots, but your needs may be different.
Fast Tap Camera is compatible with any iPhone running the iPhone 2.2 software update.]
[ Beau Colburn lives in Boston where he takes a lot of photos.]