A network-attached storage (NAS) drive is a dedicated storage device that uses its own operating system and software to provide centralized storage and file sharing over a computer network. NAS prices have come down to almost standard external hard-drive levels, so if you've thought about sharing one hard drive among multiple Macs or buying an external drive for each, a NAS drive may be more convenient and cost-effective.
NAS, SAN, DAS…Huh?
In the land of storage, acronyms get tossed around like fruitcakes in December, and it's easy to confuse the flavors that exist. IN addition to NAS, there's also SAN (storage area network) and DAS (direct-attached storage). While they all share a similar functionality—they exist to provide some form of file storage—they do differ.
Network-attached storage refers to single hard disk-based devices that connect to a network over Ethernet or TCP/IP, and use file-sharing protocols that allow computers to access their disks as remote volumes. A storage area network is used more in enterprise-level businesses, and consists of a network of Fibre Channel-connected storage devices (usually multiple disk arrays) that communicate with servers as large-scale local disks. Direct-attached storage is exactly that—storage that's directly connected to a computer or server, such as a RAID array, external hard drive, thumb drive, or optical drive—no network required (no network sharing either).
NAS is the best choice for SOHO users; you get file-based shared storage that's easier to set up, troubleshoot, and access across a mixed computer network. With its expense and complexity, SAN is for enterprise businesses; you get speedy data transfer (Fibre Channel is almost three times faster than SCSI) and better data redundancy, but instead of file-based storage, the data is delivered and stored as disk blocks, and set-up generally requires highly technical expertise and skills. If you're not into sharing, DAS is the easy choice—and the one you're probably already using.
NAS Shopping tips
Mac Compatibility Not all NAS drives play nice with Macs. In the NAS world, SMB (Server Message Block), a Windows file-sharing protocol, rules. Macs can use it, but due to some file-naming restrictions, you may have to rename some files. Macs use AFP (Apple Filing Protocol) for file sharing, so look for NAS drives that support it—some support Bonjour (OS X's built-in networking protocol for local network devices), too. For configuring ease, most NAS drives come with software or a Web browser-based wizard that'll walk you through the process, but some setups can be tricky—especially if the device doesn't support AFP.
Drive Facility NAS devices have either a preinstalled hard drive or an empty enclosure that lets you dictate the storage capacity (you'll need to purchase an internal hard drive and install it yourself, but you could save some money by going this route).
Extra Features Many NAS drives offer additional benefits. If you want to offload your music, movies, and photos onto a centralized server and stream content to multiple computers, look for NAS drives with media server functionality (many support iTunes streaming). If you want to back up files, look for a drive that provides backup capability through software, a USB port to connect an external hard drive, or RAID support (only a few support Time Machine, which requires a Mac-only HFS+ formatted drive). If you want to access the drive remotely, look for a model that offers access over the Internet or FTP.
For your consideration
If you're looking for a NAS, here are a few products to look at. We haven't tested and rated these products, but they should give you an idea of what's available.
LaCie Ethernet Disk mini ($170 [500GB], $210 [1TB]; www.lacie.com) This affordable NAS drive offers AFP, simple setup, mass storage, media server functionality, remote access, backup software, and storage expansion through USB. ( Get best current price on the LaCie Ethernet Disk mini 500GB; Get best current price on the LaCie Ethernet Disk mini 1TB.)
NewerTech MiniStack NAS ($138 [160GB], $280 [750GB]; www.newertech.com) Sporting a Mac mini look, this portable 7,200-rpm NAS drive offers AFP, easy setup, ProSoft backup software, Time Machine compatibility, a security slot, and media server functionality. ( Buy the NewerTech MiniStack NAS direct from NewerTech.)
Netgear ReadyNAS Duo ($400 [500GB], $680 [1TB]; www.netgear.com) It's pricey, but this NAS drive features an extra drive bay to install an optional hard disk for mirroring data and offers AFP, remote access, media server functionality, and a BitTorrent client. ( Get best current price on the Netgear ReadyNAS Duo 500GB; Get best current price on the Netgear ReadyNAS Duo 1TB.)
AirPort Extreme and Time Capsule
If you've got a wireless network anchored by an Apple AirPort Extreme ( ), you can connect just about any USB 2.0 external desktop hard drive to the base station for storage and file sharing. All Macs and PCs on your AirPort network will see the connected drive as an AirPort Disk, for which you can use AirPort software to set up account access, password protection, and read/write file permissions. If your network includes Macs and PCs, you'll need to format your drive as FAT32 so the PCs can use the drive.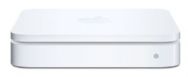 If you don't have a wireless network but want one, consider Apple's Time Capsule ( ), which combines the speedy 802.11n Wi-Fi base station capabilities of an AirPort Extreme with the mass storage capabilities of an external hard drive. Additionally, Time Capsule is Time Machine-compatible, so all OS X Leopard users on your network can take advantage of automated backups without having to connect a drive.
[Writer, music composer, photographer, and pack rat Kris Fong has archived tens of thousands of files. Now if she could only remember what's stored where…]