It's hard to beat a paper day planner for ease of use, though few of us can justify carrying one when our phones can keep track of our appointments. Some powerful editing features—cut and paste among them—make Organizer worth a look for any iPhone or iPod touch owner who misses the day planners of old.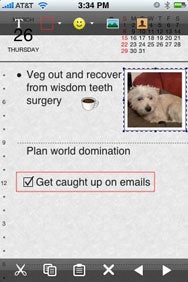 Developed by Aesthology, Organizer mimics the look of a pocket day planner right down to the paper-like texture of the background. When it comes to adding entries, the app has an extensive feature set, including different fonts, shapes, and emoticons, as well as address book integration and photo library support. Snippets of information can be repositioned, rotated, and even copied to other dates. Each page element can be cut, copied and pasted in edit mode by selecting an element and tapping the icon for those functions. Navigating to other dates is a fairly straightforward process, even if dates are months or years away. Especially handy is Organizer's text search feature, which is glaringly absent from the iPhone's built-in calendar app (at least until the iPhone 3.0 update arrives).
However, all these features come with a cost. Consequently, Organizer is clunky to use. Adding a straightforward entry—say, a lunch meeting with Bob on Thursday—takes several taps and adjustments to place it correctly on the screen. Creating to-do entries is even more convoluted, and attempting to perfectly position notes and icons is ultimately a frustrating experience. Recent updates have made the app perform somewhat more smoothly.
To its credit, Aesthology does offer a free version so that users can see if Organizer meets their needs. You're limited to three elements on a single page in Organizer Lite, as opposed to an unlimited number of elements in the paid version.
Organizer has some interesting and advanced features, and might be an alternative to users who crave the simplicity of a paper planner. Unfortunately, the app's interface keeps Organizer from being as speedy or convenient as its paper counterparts.
Organizer runs on any iPhone or iPod touch running the iPhone 2.1 software update.
[Kate Dohe is a graduate student in library and information science at the University of Hawai'i in Honolulu; she works with the Laboratory for Interactive Learning Technologies as a designer and site administrator.]