Ever since the introduction of the iPhone over two years ago, it has been evident that its major strengths are the ability to bring the whole Internet to the palm of your hand and 24/7 connectivity. In his introductory keynote in January 2007, Steve Jobs referred to it as a "breakthrough Internet communications device" and Apple has insisted from day one that Internet connectivity is one of the device's three primary pillars.
But despite that, you can't hook up the iPhone to a computer and share its cellular network connection, a curious deficit in its functionality. This ability, sharing a phone's EDGE or 3G connection with a computer via Bluetooth, USB, or Wi-Fi, is referred to as "tethering."
Using a phone that supports tethering, you'd be able to get your computer onto the Internet anywhere you have a cellular signal. That's handy on those occasions when you find yourself needing an Internet connection on your computer when you've only got it on your phone.
Whereas the older EDGE network is only capable of theoretical speeds of up to 236.8Kbps—in practice, quite slow even for cell phone use, let alone a Mac or PC—AT&T's newer 3G network currently boasts of theoretical speeds of up to 1.7Mbps, which is pretty fast whether you're on a phone or a computer. AT&T also claims that it has been able to achieve speeds of 7.2Mbps in its labs and plans to upgrade its network to support speeds of up to 20Mbps by the end of 2009, though it's unknown whether or not existing hardware will be compatible.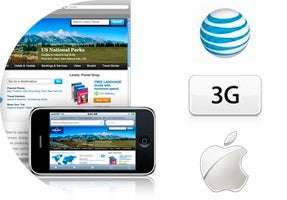 As great as tethering sounds, there are several potential reasons why both Apple and AT&T may have been hesitant to bring it to the iPhone until now. First and foremost, it's quite evident that keeping Bluetooth or Wi-Fi turned on and transmitting data over the 3G network for extended periods of time can kill the battery life of the phone, perhaps necessitating that you charge it every couple of hours or keep it plugged in while tethering.
Furthermore, it's well known that AT&T doesn't have the most robust network in the business and its recently upgraded 3G network sometimes falls to its knees when a lot of iPhones are gathered in one area. It's hard to say how tethering will impact network performance, but the additional volume of data could have a negative impact.
However, it is evident that both Apple and AT&T are indeed working to bring tethering to the iPhone. Apple executives said during the question-and-answer session at the end of the iPhone 3.0 Sneak Peek special event that the upcoming version of the iPhone OS would imbue the device with tethering capabilities. They also added that it required cooperation on the part of the company's various carrier partners around the world, and that Apple was working with those carriers.
Likewise, at the Web 2.0 Summit in November 2008, AT&T CEO Ralph De La Vega also said that tethering would soon be available on the iPhone. As with all things Apple, it's difficult to predict when the service will actually be available for iPhone users, but it certainly won't be before the iPhone OS 3.0 update is available to the public this summer.
Meanwhile, in the wake of the announcement that tethering would be supported in iPhone 3.0, developer Steve Troughton-Smith accidentally enabled the feature on his iPhone running a beta version of OS 3.0 and reported that he got it working via USB, though not over Bluetooth. Although he wasn't sure exactly how he'd activated the feature, that chink in the armor has since led to detailed tutorials that show how to alter the carrier configuration file on your iPhone running OS 3.0 beta to get tethering working.
Although Apple will tell you otherwise, iPhones running OS 2.2.1 are capable of supporting tethering, although it requires you to jailbreak your phone in order to get it to work, and the experience is not as elegant and polished as the official solution will presumably be. Applications that allow you to do this include iPhone Modem and PDANet, both of which are available through Cydia, one of the central repositories of applications for jailbroken iPhones.
Another application called NetShare, which would let you do the same thing, briefly made it onto the App Store last summer. It retailed for $10 and was downloaded by a few people who were lucky enough to notice it before it was summarily yanked off the store. Although people who bought it then can use it successfully even today, the app never returned to the store after its one-day stint.
Given the state of the telecom industry in the U.S., it shouldn't come as a surprise that carriers charge extra for the ability to tether your phone to your computer. AT&T hasn't specifically announced any plans for the iPhone, but it usually charges about $30 per month for tethering in addition to the existing voice, data, and texting charges. It also generally enforces a 5GB data cap on its tethering plans, although that may change for the iPhone, which already has a $30 per month unlimited data plan.
If you do decide to tether your iPhone to your computer, or are doing so already, I should remind you that tethering isn't currently supported by either carriers or Apple and could have unforeseen consequences for you, such as a foot-long monthly bill for having overshot your data limit. Although AT&T currently offers an unlimited data plan with the iPhone, we're not sure the same rules would necessarily apply if you were to tether your iPhone to your computer and it was somehow detected.
Once all is said and done, it's clear that tethering is an important feature and one in demand among iPhone users. Clearly, both Apple and AT&T are actively trying to bring it to the masses. Of course, any discussion about when that will happen and how much it will cost falls firmly under the heading of speculation and we'll only know the actual details when Apple and its partners are good and ready.