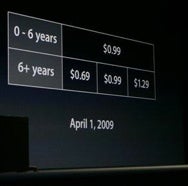 Buckle up, folks—the end is nigh. No, I'm not talking about the imminent financial collapse of Western society as we know it—though that, too, would be bad. I'm referring, of course, to the fact that tiered pricing is coming to the iTunes Store in the next few weeks. And with it, apparently, the downfall of civilization.
I hyperbolize for a reason—to take the edge off the even wackier comments others are making. For example, this quote in today's Los Angeles Times story on the subject:
"This will be a PR nightmare," predicted former EMI Music executive Ted Cohen, who is managing partner of digital media consulting firm TAG Strategic. "It is for the music industry what the AIG bonuses are for the insurance industry."
Okay, Ted—if that's your real name—I dig that AIG's the go-to scapegoat these days, and that's cool, but really? Really? I admit, I find the idea of tiered pricing annoying, but mainly because I've grown used to the one-price-fits-all approach of iTunes. I'm not seriously concerned that $1.29 is going to break my bank, even in these cash-strapped times, especially with the corresponding 69 cent price point.
Still, the App Store has accustomed me to paying all sorts of prices for different products that, prior to download, can seem awfully homogeneous. And I'm betting I'm not alone in that, despite the proliferation of apps at the 99 cent price point.
According to the Times, tiered pricing is scheduled to go into effect on April 7th—that's a little later than the April 1st that Phil Schiller put forth at last January's Macworld Expo keynote, but maybe it was all an April Fool's joke. The transition to DRM-free tracks is also supposed to be complete by the end of the quarter, which is just over the horizon—a quick check of the iTunes Store shows some stragglers remaining.
So, what say you, readers? Will the introduction of tiered pricing lead to a musicocalypse? Is it the end of the world as we know it? Or will everything be alright?