Carl Zeiss has announced that its Cinemizer Plus video goggles, which will launch in May, have already received Apple's "Works With iPhone" approval. The Cinemizer Plus will be priced at $450.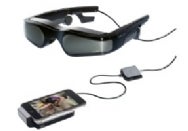 The Cinemizer Plus will ship with clips to fit either version iPhone or an any video-capable iPod. It plays back the video content on those devices through the headset, so you can watch your video privately while simulating a "big screen" experience. Zeiss claims the image is optically tuned to appear as a "virtual" 45-inch screen as viewed from about six feet away.
The Cinemizer Plus combines LCD screens with individual diopter focus adjustments — from -3.5 to +3.5D — so you can compensate for blurry vision. A built-in battery runs the display for up to four hours per charge.