Calf Trail Software has released Geotagalog 1.0 (nee Tagalog), a new photo tagging utility for Mac OS X. It costs $20.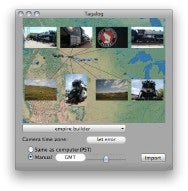 An increasingly number of digital cameras incorporate GPS tracking information so you can accurately pinpoint precisely where your shots were taken. And if you're using iPhoto '09's "Places" feature, they get grouped together using this information.
But if you haven't got such a camera, or are working with a library of photos that were taken before you had a geotagging camera, what are you to do? Geotagalog is one solution.
Geotagalog combines digital photos with location data from a GPS tracklog. It shows you a live preview as you adjust camera time settings, to correct for camera clock errors. You can import photos into iPhoto once you're done.
System requirements call for Mac OS X 10.5 or later, 11.8MB hard disk space.