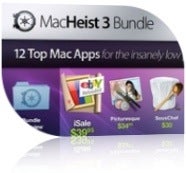 Although in previous years I'd only watched from the sidelines, I decided to give into the temptation and purchase the MacHeist bundle this year. Thirteen great Mac applications (iSale, Picturesque, SousChef, World of Goo, PhoneView, LittleSnapper, Acorn, Kinemac, WireTap Studio, Big Bang Board Games, BoinxTV, The Hit List, and Espresso), the combined value of which comes up to $975.70, are being sold for the ridiculously low price of $39—seriously, who could resist the urge?
Immediately after having purchased it though, I started having doubts about my decision, which were seeded by a post by Marco Arment, who argued that, by buying software for prices so low, we were undervaluing the application and hurting the very developers we'd set out to support. His argument was primarily based on the assumption that Phill Ryu and John Casasanta, the main organizers behind MacHeist, were taking advantage of the participating developers by offering them a pitiful fixed share, while ensuring that the majority of the profits went into their own pockets. However, that turned out to be untrue, as Ryu pointed out to him later, and, as a result, I'm not sure how much I agree with Arment's stance anymore.
Arguing that the developers were not getting their fair share of the profits was one thing and, had that been the case, I would've agreed with the assessment that buying the MacHeist bundle was perhaps morally questionable. But to claim that we, the consumers, are wrong for having seized the opportunity to score software at a steep discount—paid for and purchased legally—is just plain wrong.
Arment argues that even with the percentage-based profit sharing, the developers are still being taken for a ride because, well, $39 isn't a lot of money to begin with and once 25 percent of it goes to charity, all the other developers get paid, and the organizers take their cut, each individual developer ends up receiving much less for each copy sold than if they'd sold them individually.
But therein lies the rub. The truth is that the developers probably wouldn't have sold all those copies individually. Chances are they would have sold a fraction of the number sold through MacHeist bundle. And not everyone who buys the bundle is going to use their application either, so they're essentially getting paid (however little it may be, on a per license basis) by people who'd never have bought their application and may not intend to use it anyway.
As for those who argue that the buyers are being "cheap" for taking advantage of the discount, have you never taken advantage of a discount? Why reprimand someone simply for wanting to get a good deal?
Here's one way to look at this: Do participating developers earn more at the end of the 14-day run of MacHeist than they would have in a fortnight under ordinary circumstances? Do their applications get more exposure than they normally do? Do they successfully get their applications onto the Macs of tens of thousands of users, who would normally never have bothered to check them out? Do at least some percentage of these people later upgrade to the next version and pay full price when doing so?
I think the answer to all the questions above is in the affirmative and, therefore, I think that all participators in MacHeist do benefit from doing so at the end of the day. To take myself as an example: the only software I wanted from the current bundle were Acorn and Picturesque, but now that I have licenses for the other twelve applications (including the free copy of EventBox), I might try out some of them and perhaps even upgrade when newer versions come out. The worst-case scenario would be that I don't even download the applications—but the developers behind them still get a small cut of the price I paid for the bundle. In the best-case scenario, they end up scoring a new, paying customer.
I also take issue with the way Arment and some other more, er, outspoken people are insisting that the developers who participate are being taken advantage of, even though they themselves deny that claim. It's a ridiculous assertion: The developers in question are folks with brains just as developed as yours or mine and know what the terms of the deal are. They're not being forced to participate at gunpoint, so what exactly is the problem?
It's not like this is an under-publicized event that's only just debuting either. This is MacHeist's third year and it's one of the most hyped events in the Mac community. If developers still aren't sure what they're getting into when they sign on the dotted line, well, it's like the saying goes: "fool me once, shame on you; fool me twice, shame on me!"
Note: When you purchase something after clicking links in our articles, we may earn a small commission. Read our affiliate link policy for more details.