Playdom, the social game company that no one has heard of, is coming to the iPhone. The obscurity is by choice, for Playdom has been a stealth company the past year and has just recently revealed itself to the world. They've quietly become the biggest developer on MySpace and are primed to take on the iPhone platform next. Mobsters is currently the number one game on MySpace and the iPhone edition, entitled: Mobsters: Big Apple (pun intended?) is due out within the next month.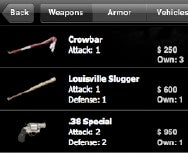 Mobsters: Big Apple performs like many popular social games already seen on Facebook and MySpace. Players are tasked with building up their criminal empire and can buy real estate, perform missions, fight other mobsters, and level up their characters all with relative ease thanks to a new sleek interface for the iPhone. Unlike many other social games of its kind, Playdom's Mobsters, as it appears on MySpace, has continued to evolve and adapt to the wishes of its users and has retained popularity since its release. Keeping players continually interested in what is primarily a text-based RPG is a challenge, but one they've met so far.
The iPhone edition will utilize cross platform connections so you can rob, fight, and off your friends on MySpace while using your iPhone. A Facebook edition is also in the works and will have connectivity with the other platforms as well. Unlike many developers I've talked to this week, Playdom isn't willing to bet the whole farm on the iPhone's success. They've generated millions of fans through MySpace and Facebook and will continue to do so. Dan Yue, CEO and Co-Founder of Playdom believes that the company will offer cross platform releases in the future. Additionally, a lot of the already successful games on MySpace and Facebook will likely get ported to the iPhone platform as well.
Playdom has climbed to the top of the social games pile on Myspace due in large part to what Chairman and Co-Founder Rick Thompson calls a "Slavish devotion to customers." Three of the four top games on MySpace were developed by Playdom, displaying an acute knowledge of social connectivity and how to run an online community. With only thirty-five current employees, the company is also remarkably small. Thompson and Yue admit that right now the biggest handicap is their size, and are looking to aggressively recruit in the coming months to help augment their iPhone release aspirations.
Though no other titles have been confirmed yet, look for Mobsters: Big Apple at the App store in the coming weeks.