At a Glance
Expert's Rating
Our Verdict
If you've never manually added lyrics to a track in iTunes, the process goes like this: You select the track, choose File: Get Info, click on the Lyrics tab in the Info window, type or paste the lyrics into the large text field, and then click on OK. It's not a difficult task, but it's a hassle to perform more than occasionally—let alone to do it for every track in your iTunes library. Which is too bad, because once you've added lyrics, they aren't confined to iTunes's Info window; you can also view them on your iPod or iPhone.
Back in 2005, I covered pearLyrics, a utility that watched iTunes and automatically added lyrics to whatever track was playing. It was a popular Gem among Macworld readers; sadly, soon after that coverage, pearLyrics was discontinued due to pressure from the music-publishing industry. Since then, a number of other products have been released that can get song lyrics into iTunes, but few perform the task as seamlessly as pearLyrics. So I was happy to discover iClip Lyrics, as close to a pearLyrics replacement as I've seen.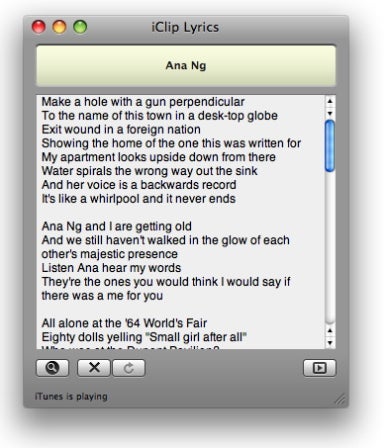 For a good amount of music, you just launch iClip Lyrics and leave it running whenever you're listening to iTunes. The display at the top of the iClip Lyrics window shows the name of the current track (although, oddly, not the artist name). If the track already has lyrics—they're stored in the audio file's ID3 tags—those lyrics are shown in the main part of the window. For tracks that don't have lyrics, the program uses the track and artist names to search LyricWiki.org; it then displays the lyrics, if found, and adds them to the current tracks' ID3 tags. All this happens automatically, without any intervention from you; by leaving iClip Lyrics running all the time, you end up gradually adding lyrics for much of your music.
Unfortunately, LyricWiki doesn't have the lyrics to every song. If a track's lyrics aren't found on LyricWiki, you can turn to Google by clicking on the Search (magnifying-glass icon) button. iClip Lyrics sends a Google request to your browser in the form of "lyrics [song title] [artist name]" and, at the same time, opens a Clipboard drawer in the iClip Lyrics window. If you find your track's lyrics via the Google search, just select the text and copy it; the copied text is automatically pasted into iClip Lyrics's Clipboard drawer. Assuming it's the correct text, a click on the Paste Lyrics button applies it to the current track. While this process isn't as convenient as the program's automatic mode, it's still quite a bit simpler than the alternative: manually performing a Google search, copying the lyrics, switching to iTunes, opening the Info window, switching to the Lyrics tab, pasting the lyrics, and then clicking on OK.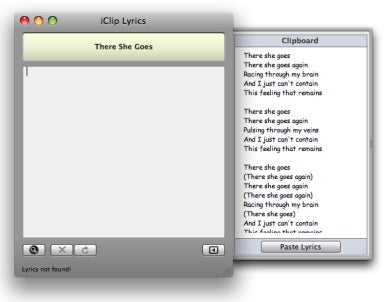 If the lyrics for a song contain errors, you can make changes right in iClip Lyrics's window—just edit the text and then click on the Refresh (circular arrow) button to apply the change. Or, if LyricWiki provides lyrics to the wrong song, a quick click on the Delete (x) button clears those lyrics from the track altogether.
What makes iClip Lyrics so useful is that you can just launch it and let it do its thing in the background while you're enjoying your music; you can even hide iClip Lyrics so you never see it working. (Alternatively, you can choose to have iClip Lyrics float above all other programs so it's always visible.)
One potentially frustrating behavior is that if you leave iClip Lyrics's Clipboard drawer open, whenever the contents of OS X's Clipboard change—in other words, whenever you copy or cut content, regardless of the program in which you do so—iClip Lyrics pops to the front and places the Clipboard's contents in the drawer. iClip Lyrics doesn't do anything with that text unless you click on the Paste Lyrics button, but it's still momentarily confusing to see text from, say, a work document show up in the drawer (not to mention that it can get annoying to have to regularly switch back to the program in which you were working). So it's best to close the drawer when you aren't actively using it.
But perhaps the biggest limitation of iClip Lyrics is LyricWiki.org. For my music collection, which contains quite a bit of independent artists thanks in part to four years' worth of free SXSW music, LyricWiki often comes up short. (To take care of those tracks, I occasionally dedicate some time to manually finding lyrics. I use Doug Adams's No Lyrics to Playlist 2.0 script, which creates a new iTunes playlist containing all tracks that don't have lyrics, to make this task easier.)
Still it's tough to complain when I stop and realize that iClip Lyrics and LyricWiki, working together, have filled in lyrics for thousands of the songs in my iTunes library without my having to lift a finger. Until Apple finally strikes a deal with the music industry to let iTunes automatically grab lyrics for tracks in your library, iClip Lyrics is a great tool to have in your music toolbox.
Want to stay up to date with the latest Gems? Sign up for the Mac Gems newsletter for a weekly email summary of Gems reviews sent directly to your Inbox.