At a Glance
Expert's Rating
Pros
Good design, interface, and feature set
Excellent macro feature
Great image quality
Good high ISO performance
Cons
A little bulky
Flash is a little strong
Images have a slight but correctable color cast
Our Verdict
Canon's PowerShot A470 doesn't have the largest feature set, or the smallest design, or the highest pixel count among cameras in the $100 price range. But the A470 produces top-notch images and is easy to shoot with, and its feature set provides everything you need.
The A470 is not a large camera, but it's not the smallest point-and-shoot you'll find, either. It's got kind of an odd shape, and because the lens doesn't retract so it's flush with the body, it can be a little cumbersome to stuff in a pocket or bag.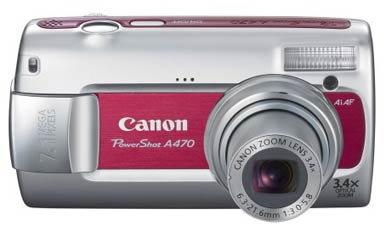 The A470 uses two AA batteries rather than a proprietary rechargeable. That means you can easily replace the batteries while on the road, but it also means the camera is a little heavier than models that use a proprietary battery. Nevertheless, the A470 has an attractive design that feels good in the hand.
At 7.1 megapixels, the A470 has a lower pixel count than other cameras at this price point. But this is still more than enough pixels to produce good 4-by-6-inch prints, or to even enlarge up to 8 by 10. The camera sports a 2.5-inch LCD that's bright and clear, but does suffer from some color and streaking artifacts when you're shooting into bright light. The camera's 3.4X optical zoom lens offers a typical zoom range from fairly wide to a little bit telephoto.
A mode dial on the back of the camera makes it easy to switch between a full auto mode, a mostly auto mode, playback, scene modes, and movies. Full auto mode takes care of all the essential decisions you need to make when shooting, and the A470 does a great job with focusing and metering. The rest of the camera's controls are well designed and easy to access.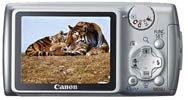 Canon has provided single and multipoint autofocus, as well as face detection, which can automatically locate faces in a scene and focus on them. Unlike most cameras at this price, Canon has not bothered with smile detection, a tool that hasn't proven to work well in any implementation I've seen.
While auto mode takes care of all essential settings for you, manual mode gives you manual override of flash, ISO, white balance, exposure compensation, and more. The A470 even has multiple light meters, including a spot meter, which can be ideal for tackling difficult backlight situations.
Specifications
| | |
| --- | --- |
| Resolution | 7.1 megapixels |
| Zoom/Focal Length (35mm equivalent) | 3.4x/38mm–132mm |
| Battery Type | 2 AA |
| Media Slots | 1 (SD, SDHC) |
| Size in inches (w x h x d) | 4.1 x 2.2 x 1.6 |
| Weight (oz.) | 5.8 |
For situations that auto mode can't handle, the A470 also provides scene modes, which tailor the camera's automatic decisions to handle specific issues. The A470 doesn't have a huge selection of scene modes, but the ones it has are very practical. Unfortunately, it lacks a mode for capturing good flash portraits at night without having the background go completely black. This is a very strange omission in an otherwise well-appointed camera.
The flash's performance is good for fill flash, but it can be a bit strong. For shooting at night, it offers typical performance for a camera this size—that is, your images will look like flash shots, and your subjects will tend toward red-eye and slight overexposure.
Image quality
For a camera this affordable, the A470 produces surprisingly good images. While it doesn't have a great lens, it benefits greatly from the same Digic III image processor that you get in more expensive Canon cameras. Images have a tendency toward a color cast, but it's not too unattractive and it's correctable in a image editor like Photoshop Elements ( ).
Jury tests
| | |
| --- | --- |
| Image Clarity | Very Good |
| Color Quality | Very Good |
| Flash Quality | Good |
Scale = Superior, Very Good, Good, Fair, Poor
Still, this is a $100 camera, so your images might hurt a little in the fine-detail areas, and it sometimes renders solid colors a little mottled. Overall, though, the A470 performs better than any camera in its class. Offering ISOs of 80 to 1600, it produces surprisingly good images at high ISO. They're noisy, but it's an inoffensive noise that's free of color splotches.
The A470 includes a very good movie mode that shoots nice-looking video at 640 by 480 pixels and 30 frames per second, with sound. One of the standout features is the macro ability, which lets you practically touch the lens to your subject and still get nice shots with good detail. (I shoot with an expensive SLR, and I'm even thinking of picking up an A470 just for the macro. It's that good.)
Macworld's buying advice
If you normally shoot pictures with a mobile phone camera, or if you want to try your hand at digital photography, the A470 is a great place to start. Offering very good image quality with a nice set of controls, the A470 is a fine snapshot camera that sets a great example of how less can be more in the realm of digital photography. With its lower-pixel-count sensor, the A470 produces better images than its competition, because it's not trying to be something it's not. Canon has cleverly assessed the limits of what can be done with a camera at this price point.
[Macworld Senior Contributor Ben Long is the author of Complete Digital Photography, fourth edition (Charles River Media, 2007). More of Ben's work can be found at Complete Digital Photography.]