Com2uS is a Korean-based mobile games company most known for bringing the popular RPG Chronicles of Inotia to the iPhone. Since its December 15th release, the game has stayed on the Top 50 iPhone applications list and currently ranks in the top ten most downloaded iPhone RPGs.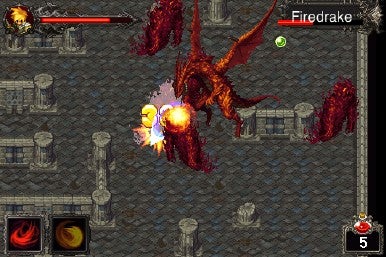 Com2uS may not be a household name in the US, but it's very well known in Korea. The company was first started in 1998, becoming the first mobile game company in Korea. It now ranks as the largest mobile game company in Korea and has made developing for the iPhone a major priority.
Don Lim, Com2us' North American general manager said his company is excited about how much the Software Development Kit (SDK) for iPhone OS 3.0 will help developers. The Korean gaming industry has utilized micro transactions for years and Com2uS has witnessed some of their games double their revenue due to micro transactions. Apple's willingness to adapt their business model through what Apple calls "In App Purchase will add value to games, Lim said.
Currently, Com2uS has several other games on the iPhone, including the zombie survival horror game Trapped: Undead Infection and Crazy Hot Dogs, a fun casual game where the player must serve a variety of demanding customers. In the next month, the mobile game company hopes to release two new baseball-themed games and a kid-marketed music rhythm game called "World of Tunes."
The first baseball game, titled "Nine Innings," hopes to be one of the first successful baseball simulators on the iPhone. Its cartoonish graphics hide a sophisticated management system and ability to customize your team.
In contrast, "Baseball Slugger: Homerun Race" will be a homerun derby type game where the player can customize their character and equipment. Baseball Slugger utilizes the motion sensor of the iPhone to manipulate the bat, and is also built to take advantage of the social features and In App Purchasing of iPhone OS 3.0.
Lim believes fervently that "The best games are the ones you share with your friends," so you'll be able to play against friends and random players online in Baseball Slugger. For dedicated diamond fans out there, Com2uS is currently in talks with Louisville Slugger, the iconic baseball bat brand, to feature several real bats as unlockable content.
Keep an eye out for Com2uS's releases in the coming weeks. With the iPhone app market wide open at this point, Com2uS is doing its best to make a name for itself. They're already in talks to partner with Disney on releases in the future, and though they're keeping mum on titles and release dates, the partnership speaks volumes about the longtime potential for the company.