Here's an analogy for you: Shigeru Miyamoto is to Nintendo as ____ is to iPhone games. Every platform and technological breakthrough needs a face and a name that pushes the idea further than ever before. While the iPhone doesn't have a Miyamoto quite yet, Neil Young has been making a strong case for the role.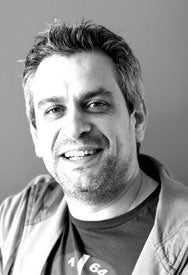 Young, co-founder of Ngmoco, has been seemingly everywhere at GDC this past week. Mr. Young gave the keynote address on Monday morning to start GDC, sat on several panels since then, headlined the iGames Summit that preceded GDC, and has taken the time to be interviewed by snarky reporters.
Sitting down with Neil Young, his humble demeanor and casual manner is not what you'd expect from a game designer. His infectious energy and easy smile contrast with his graying hair and haggard appearance. He's been through a lot this week, and his shoulders carry a bit of the weight of his industry on them. The man is one of the most recognizable faces in the growing iPhone game market, and is regularly cited as a major spokesperson for the genre. He's been developing games for years and still talks about them like a kid picking up his first joystick.
The iPhone is his platform. Though lacking the tradition and respect of consoles or conventional computer games, the iPhone is nevertheless the most widely discussed topic this week at GDC.
The first class is the "Good, frequently updated dollar games that stay at the top of the charts and are backed by dedicated communities and developers." The second class he sees "are premium games which have higher price tags and are released at key times of year, like Christmas" or Spring. These include games by Gameloft, EA, and Ngmoco. The final category is simply "everything else," the riffraff that comes and goes on the top apps list but usually comes from developers who don't quite know what they want.
Young posits that iPhone OS 3.0 will likely generate an initial wave of dollar apps, "but non-trivial server actions will make in game commerce a difficult task for some developers." He predicts that after the dust settles, games that use in-game commerce will likely be well developed and have a dedicated team ready to update the product.
Young also foresees that existing games on the PSP and DS will make it to the iPhone will minimal change. This new flood will likely consist of games that aren't taking full advantage of the iPhone's unique gaming features.
Young mentioned in his keynote the idea of using "every surface" of the iPhone, and I thought that was a curious phrase to use. He explained by citing different untapped resources on the iPhone, like the camera or the contact list. "In [Ngmoco's] Dr. Awesome, the people you save are populated from your contact list." This ability to use and expand your "social graph" is a potential vein to mine in future games.
The evolution of iPhone games
Young foresees the evolution of gaming genres on the iPhone. He believes they'll incorporate many elements of different genres, or "mashups," and social features will be part of many different games. "The Touch Petz game which Ngmoco worked on with Andrew Stern combines many elements of different genres. It has virtual currency, unlockable content, social networking, and Andrew Stern's distinctive AI." Young sees it as a great example of "driving social elements into other gameplay" and a precursor of things to come.
While many higher-end game companies have started developing for the iPhone, there has also been a recent push for former Facebook and MySpace games to be adapted to the iPhone. Critics often mock the text-based RPGs as possessing thin gameplay and while heavy on social elements, lack a goal or end-game to work towards. Young recognizes the pitfalls with such games, and believes that "Ngmoco has and will continue to create games that respect social and gameplay." The iPhone, he believes, "can do more." He hopes to bring together all of this different learning that developers have garnered from their experience and drive it into new directions with the iPhone.
The potential isn't limitless, however. Young sees that international markets and negotiating contracts with the micro transactions and cell phone carriers could limit the number of people that the iPhone (and the games) can reach.
I asked Young about the battery life of the iPhone as a limiting factor, and while he admitted that he'd like to see a longer battery life, it hasn't been a major deterrent for development. If you're building a game, he explained, "how you sequence network connectivity" and how high-end your graphics are will make an impact on the longevity of the iPhone's battery life.
Neil Young is one of the rising stars in the iPhone industry. His conversational manner and vast knowledge of the medium makes him an ideal panel member, and also a good captain to navigate the vastly changing seas of mobile gaming. "As the water rises," he claims to be constantly working on "creating bigger and better boats;" while others capsize, look for Ngmoco and Neil Young to be not only staying afloat, but the raft many are swimming towards.
[Editor's note: Updated 12:20PM PST with quotes from Young.]