For those that prefer to read their television and movies—c'mon, it's as close as some of us get to literature—Apple's been supporting subtitles and captions in its software and on its devices for a while now. Unfortunately, despite that, there are very few videos on the iTunes Store that actually include this information (I found just 138 movies with captions out of the thousands on the store).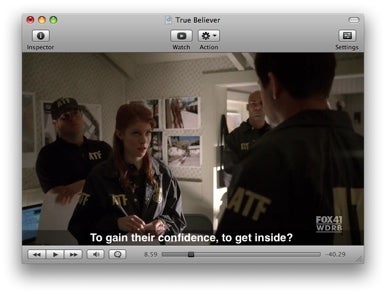 But, if you're getting your video files from elsewhere, you can potentially add your own subtitles. That's where iSubtitle comes in. This $19 program from Bitfield can add soft subtitles—i.e. captions you can turn on or off—to your video files that you can then watch via iTunes or QuickTime Player, or on your iPhone, iPod touch, or Apple TV. Sadly, it won't work with protected video purchased from the iTunes Store.
If you're wondering where exactly you get subtitle files, Bitfield's site links to a few resources for television shows and films. iSubtitle supports several different popular subtitle and video formats, and you can add multiple languages to the same file, just in case you want to be able to choose between, say, English and Swedish for your Ingmar Bergman collection.
For the most part, the program is pretty straightforward to use: open your video file, add in your subtitle track, save and you're good to go (you may need to re-encode the video, depending on the format, but iSubtitle will do that for you). Still, the developers made at least one user interface choice I found…perplexing.