At a Glance
Expert's Rating
Pros
Fun in-camera editing tools
Wide-angle lens and huge LCD
Cons
Image stabilization could be better
Proprietary A/V connector
Our Verdict
If you're looking for fun in-camera extras and editing tools in a point-and-shoot digital camera, Sony's Cyber-shot DSC-W290 is a great option. A wide-angle lens, a sharp 3-inch LCD screen, and a 720p HD movie mode also add to its overall appeal, but we have seen better image quality from similarly priced cameras in 2009.
The 12-megapixel DSC-W290 has a 5X optical-zoom Carl Zeiss lens, starting at 28mm on the wide-angle end to 140mm on the telephoto end. It's a bit thicker than many competing point-and-shoots, but still pocketable: about 4 inches wide, 2.5 inches high, and an inch deep.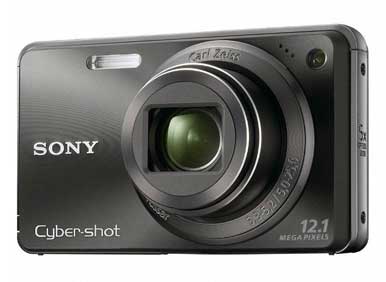 Overall image quality was rated as Good, according to our lab's jury evaluations. The DSC-W290 fared well in terms of overall exposure in our tests, but image sharpness and distortion were shortcomings.
Jury tests
| | |
| --- | --- |
| Image quality | Good |
| Color quality | Good |
| Flash quality | Good |
Scale = Superior, Very Good, Good, Fair, Poor
In informal hands-on tests, I found that the W290 takes good high-ISO shots in low light, although noise is visible at ISO 3200 and ISO 1600—not enough to ruin the shots, however. The DSC-W290 also takes about a second or more to save photos at high-ISO, low-light settings. During hands-on tests, it also became evident that the DSC-W290's optical image stabilization is effective with a small level of shake, but struggled to take a sharp image when the camera was shaken more vigorously.
The DSC-W290 has only ten scene modes, which is a low count compared with competitors in its price range, but that also means it's bloat-free. You get all the essential and often-used modes, such as high ISO, Landscape, Snow, Fireworks, and Soft Focus.
As usual with Sony cameras, the camera settings are easily accessible via a mode dial on the back, and the user interface is helped by the excellent and intuitive on-screen menus. What's more, this model has a dedicated Smile Shutter button on the top of the camera (next to the shutter button); this lets you quickly turn on the camera's smile-triggered shutter feature. Smile Shutter automatically takes a picture once the subject smiles, and you can even adjust the sensitivity of the smile trigger in the camera.
The smile-triggered shutter is pretty commonplace among point-and-shoots these days, but a few features in the DSC-W290 set it apart from other pocket cameras. First and foremost is the range of creative image-editing features you get in this camera. Instead of applying "live" effects to your photos, many of these features can be applied after you take your shots: You can add fish-eye effects, radial blur, or red-eye correction; isolate one color in your photos while turning the rest of the image black and white; and apply a retro effect that mimics a pinhole camera.
But by far the weirdest—and the most fun—in-camera feature is the Happy Faces mode, which lets you add a fake smile to underwhelmed photo subjects. You can see for yourself how the Happy Faces mode can put a smile on the face of the Mona Lisa and on a serious-looking Barack Obama.
The advantage to adding these effects after your shots are taken is that you preserve the original image; cameras such as Panasonic's [Lumix DMC-FS25]](http://www.macworld.com/article/140631/2009/05/dmcfs25.html) ( ) and Canon's PowerShot SD780 IS ( ) have pinhole-camera simulators and color-isolation modes, respectively, but both cameras apply those effects to the source image as it's being shot.
In addition to the scene modes, four top-level shooting modes are also accessible from the mode dial. Easy Auto Mode automatically optimizes in-camera settings for a scene and hides all the more-complicated settings from the shooter. Intelligent Auto Mode combines automatic scene optimization, optical stabilization, and face detection. Program Mode lets you adjust white balance, exposure compensation, dynamic range settings, ISO levels, and metering options; however, you don't get anything in the way of shutter and aperture controls, but that's common in a camera of this price and size. Lastly, Movie Mode lets you shoot 720p high-definition clips or 640-by-480 standard-definition clips, both as MPEG-4 files at 30 frames per second. You can't use the zoom in movie mode, which is common in point-and-shoots.
The button layout is straight-forward: On top of the camera are the power button, the shutter button, and the Smile Shutter button. On the back, next to the big and clear 3-inch LCD, are the zoom toggle, the mode dial, the playback button, and a four-way directional pad for menu navigation (doubling as one-touch access to the flash settings, macro mode, self timer, and display settings), as well as a menu button and a delete button. The camera has no optical viewfinder.
On the bottom of the camera is the A/V-out port for transferring photos and movies to your computer; unfortunately, it's a proprietary connector on the camera's side of things, so you can't swap in a mini-USB or micro-USB cable for that task. Another downside is the plastic battery door on the bottom of the camera; it feels as if it could snap off way too easily. Besides the battery itself, this compartment holds another proprietary item: a Memory Stick storage slot. (You don't get a Memory Stick card with the camera.)
Battery life is a huge plus: the DSC-W290 fired off 342 shots on a single charge of its lithium ion battery, good enough for a lab score of Very Good. Unfortunately, you need to remove the battery from the camera to charge it; the camera comes with a plug-in battery charger.
Specifications
| | |
| --- | --- |
| Resolution (in megapixels) | 12.1 |
| Optical zoom/focal length (35mm equivalent) | 5X/28mm-140mm |
| Battery type | Rechargeable litihium ion |
| Media Slots | 1 (Memory Stick) |
| Size (width x height x depth, in inches) | 3.9 x 2.4 x 0.9 |
| Weight (in ounces) | 6.2 |
Macworld's buying advice
The Cyber-shot W290 may not have the sharpest image quality in its price range, but casual photographers looking for a big display, ease of use, and good battery life will likely be pleased with it. Those looking for fun in-camera features and editing tools will be delighted.
[Tim Moynihan is a senior editor for PC World.]