Thanks to the release of iPhoto '09, there's been a lot of buzz around the idea of adding location data, called geotags, to your photos. The newest version of Apple's photo-management software—along with online services such as Flickr—can now read this location data and place your photos on a map. Geotags also give you new options for searching your library, as you can find photos based on where they were taken, rather than when they were taken. But how do your get that geodata in your images in the first place?
One option is to manually apply the latitude and longitude after the photo is already on your Mac. To that end, several Mac programs, including iPhoto '09 ( ), can help. But if manual labor isn't your thing, another is to use a tracking device that records the data while you shoot. You can then sync the photos and the data when you're back at your Mac. Here are four affordable Mac-friendly gadgets that record the approximate location of where you're taking a picture every time you snap the shutter.
The all-in-one approach
The most obvious avenue to geotagging photos is to put GPS smarts right in the camera. Unfortunately, this option hasn't really caught on yet with camera makers. That's partly due to the technical restraints: the GPS chip puts extra strain on the camera battery, and the camera has to manage all of that data it's collecting. Nevertheless, Nikon has taken a stab at producing a GPS-enabled camera with the $500 Coolpix P6000.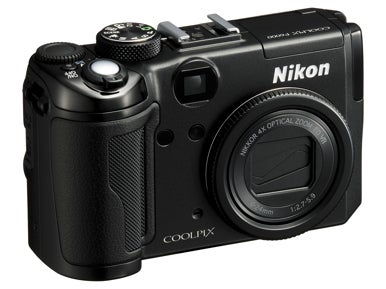 When the GPS feature is enabled, the camera determines your position via satellite and adds the location to the image's EXIF data. But the convenience comes at a price. For one thing, the GPS feature can take a while to warm up once you activate it. Although I only experienced a lag of a few minutes when shooting out in the open, other users have reported having to wait as long as ten minutes after turning on the GPS. The GPS doesn't work well inside buildings, under bridges, and near other obstacles to a clear sky view. Also, turning on GPS increases battery drain, so you'll want to make sure you have an extra battery or two on hand if you're geotagging images.
Good for: If you like being on the bleeding edge of technology and are willing to put up with some inconvenience for an all-in-one geotagging option, a GPS-enabled camera such as the Coolpix P6000 is an enticing option. But most photographers will likely find the technology still a bit too immature for practical use.
A clever workaround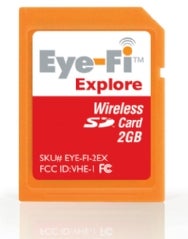 Satellites aren't the only way to determine your location. There are Wi-Fi hotspots all over the world and Skyhook Wireless has surveyed millions of them, logging latitude and longitude coordinates for each. If you're near one of these tagged hotspots, then a Wi-Fi device can approximate your location.
Eye-Fi takes advantage of Skyhook's work with its $99 Eye-Fi Explore Video card. This 4GB SD memory card works with nearly any SD-capable camera and includes Wi-Fi. When you take a photo, the Explore card looks for a nearby Wi-Fi hotspot and then notes its location. When you upload the images wirelessly, the Eye-Fi Manager software on your Mac accesses the Skyhook database and adds the appropriate geodata to the photos. It then saves the tagged images to your computer (it can import photos right into iPhoto if you like) or sends them to online services such as Flickr.
Good for: This approach works well when you're in a city or any location that has Wi-Fi hotspots for the Explore card to locate. But if you're out in the boonies, then you're going to have to use satellite-based GPS to log your location.
Geodata in your hot shoe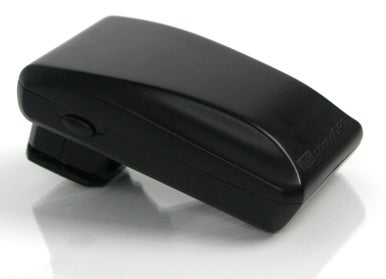 Another approach to geotagging is to carry around a small piece of hardware that can track your GPS coordinates. Jobo's $175 photoGPS, for example, is a small, black GPS device designed to slide into the hot shoe of your DSLR. (It technically also works with compact cameras that offer hot shoes; however, in my tests, the device occasionally loses the connection.) When you snap a photo, the camera triggers the photoGPS to record location coordinates. The device can keep track of approximately 1,000 locations. A flashing green light confirms that the GPS data was captured. When you're done shooting, you simply connect the device to your Mac, launch its software (you must be connected to the Internet), and the program syncs the location data with the pictures. During the download process, the software supplements the basic coordinates with data from Tele Atlas, including country, city, street, and nearby points of interest. All of this information can be written directly to the JPEG file, or stored as an XMP sidecar file for raw files.
When you're heading into an environment that may block a GPS reading—for example, when you go inside a building—you can use the nifty GeoHint button on the right side of the device to manually capture a reading. If the photoGPS can't get a position for subsequent photos, it will use the manually recorded data for the photos. This is also a good way to capture GPS data when the photoGPS isn't in your camera's hot shoe—for example, when you're using a compact camera. Press the GeoHint button each time you move to a new location and the software will tag the photos when you get home.
Good for: The photoGPS is best for DSLR photographers who aren't otherwise using their hot shoe. It has fairly sensitive GPS tracking, and the bundled software provides lots of location data such as points of interest.
Geodata in your backpack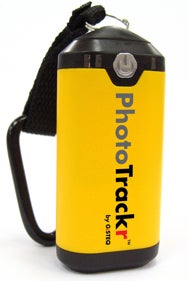 If you don't want anything attached to your camera—after all, you may have other uses for that hot shoe—and don't want to press any buttons, you might prefer a device that is constantly recording geodata while you're taking pictures. That's the approach that the petite Gisteq PhotoTrackr Lite takes. This $129 device runs for 14 hours on a single AA battery and can record as many as 250,000 locations. And the PhotoTrackr is sensitive enough that you can leave it in your backpack while you're out shooting.
Before you hit the road, you use the bundled Mac software to synchronize your camera with the PhotoTrackr. After you capture all the shots you want and return to your computer, you transfer both the images from your camera and the data from the PhotoTrackr. The software then matches the timestamps to give you the coordinates you need. When the photos have been tagged, you can import them into iPhoto or upload them to an online service that supports geotags.
Good for: This device is great for outdoor photographers who want to travel light and endure minimum fuss while shooting.
Figuring out what's best for you
Although none are as accurate as a high-end GPS unit, for a modest investment, any of these devices will put you on the road to geotagging your images. With new cameras being announced all the time, keep an eye out for user-friendly models that include GPS—ultimately this offers the best long-range solution. In the meantime, if most of your shooting is in urban settings, and you record primarily in JPEG, the Eye-Fi Explore is a reasonable approach. But keep in mind that you must follow its specific workflow—including uploading to the Eye-Fi Manager after every shoot—to get the geotagged data. The Jobo photoGPS and Gisteq PhotoTrackr are more versatile devices. You can record geodata anywhere and then choose which shots you want to tag at your convenience, when you return to your computer. Both have Mac compatible software and let you shoot in Raw or JPEG.
Clue in iPhoto '09
One final nopte about using any of these tools with iPhoto '09: if you are using GPS hardware to geotag your photos, go to the Advanced tab in iPhoto's Preferences, and make sure Automatically is selected for the Look Up Places option. Now when you import a geotagged photo, iPhoto will automatically look up the embedded GPS coordinates and add the country, state, and city to the image's metadata. This will make it easier to search your photos within iPhoto.
[Derrick Story publishes a weekly photography podcast called The Digital Story and is the author of several photography books. Look for his iPhoto '09 training series on Lynda.com.]