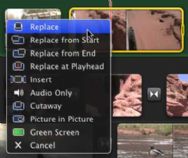 Whenever Apple releases minor updates to its software offerings, you'll find us poking lighthearted jabs at the company for having extremely terse and standardized release notes. It's pretty much a given, for example, to see the phrase "improves overall stability" on the release notes of all Apple software updates. But sometimes the company slips actual new features into updates under that cover of darkness, as with the recently released 8.0.1 update for iMovie.
This latest update to Apple's consumer video-editing program included three new features of note as well as one major bug fix. TidBITS's Jeff Carlson gives a rundown of the update, which now sports the ability to enter custom map locations, makes it easier to export and share videos in 720p high-definition format, and adds a keyboard shortcut for the Split command. In addition, the update corrects a rather nasty interlacing issue with HD movies, which previously required you to process your exported movies in other applications once iMovie was done with them.
The new features will likely be welcomed by iMovie users; the custom map location feature, in particular, makes it much easier to pinpoint where exactly the videos were shot, even if the place in question isn't included in iMovie's built-in list of landmarks and notable places. We're not opposed to new features—far from it—but it would be nice if Apple would actually tell us they were there instead of waiting for us to ferret them out on our own.
[via Daring Fireball]