The App Store has set up a special page for winners and finalists of last week's Independent Games Festival, which happened during the Game Developer Conference (GDC) in San Francisco. Several iPhone and iPod touch games made the cut, and Apple is featuring them.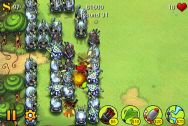 Among the games is Fieldrunners, Zen Bound, Galcon, Edge, Smiles, Eliss, Dizzy Bee, Ruben & Lullaby, Radio Flare and Frenzic. All retail for between $1 and $5.
The IGF Mobile Game Awards was dominated by iPhone and iPod touch games this year.