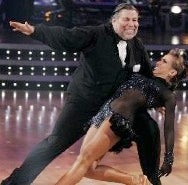 Most of us never thought he'd make it this far, but as we go into the fourth week of the season, everyone's favorite tech genius, the wonderful Steve Wozniak, is still prancing his way through Dancing with the Stars—in spite of receiving some of the lowest scores from the judges in the show's eight seasons.
While last week our protagonist struggled with a pulled hamstring suffered the weekend before the competition, this week's hardship is served with an ironic twist: Woz's iTunes has crashed. Reporting on his Facebook Support Group, Woz describes the horrors of iTunes quitting "with horrible error messages."
While the thought of the creator of the Apple I schlepping his MacBook Pro to the local Apple Store is both surreal and amusing, the real world impact of this issue is not insignificant: it's kept him from listening to his new dance tune.
Speaking of this week's tune, it's an Argentine tango number that is sure to heat things up on the floor. "I'm sort of treating the judges like voyeurs at a peep show, ha ha ha," the Woz remarked in his Facebook e-mail. While this may or may not increase your willingness to sit through Woz's dance moves, it's got to entice you in some way. I'm not sure what way that might be, but let's hope that the words "Woz" and "voyeur" are never again used in the same story. Ever.
The Internet grassroots movement to bring Steve to the top of the competition is gaining momentum, with the votewoz Twitter feed now at over 94,000 followers. The online movement to keep Woz in the race has been crucial to his success—because lord knows the judges aren't helping him. On the other hand, though, some argue that the judges' criticism has actually triggered a backlash of sympathy for Wozniak that ends up helping the Apple co-founder.
Woz even accused the producers of attempting to get him to withdraw because of his pulled hamstring. "They tried to get me to back out because of embarrassment, saying the judges might give me 2's. I said I don't get embarrassed" he added in his e-mail. That Woz doesn't get embarrassed shouldn't be a shock to anyone by now. But why is he doing this? Why put himself through such rigorous training while taking beating after beating from the merciless judges?
"Karina and I are determined to bring the appreciation of dance to a new height in America. It's not about us. It's about dance." Beautiful words, Woz, beautiful words.