At a Glance
Expert's Rating
Cons
Disappointing picture quality
Inputs are difficult to access
Our Verdict
Though JVC's LT-46J300 HDTV has an attractive price for its 46-inch size, its image quality disappoints. I found the picture quality to range from mediocre to abysmal. The LT-46J300 exhibited serious problems with digital artifacts called "halos" around fast-moving objects. It also had problems with skin tones. Routinely in our tests, caucasians looked too red; the effect prompted jurists to comment on the lobster-red, sunburnt faces. Judges also complained about too much brightness, lack of detail, and over-saturated colors.
The LT-46J300 performed poorly in our labs' suite of HDTV tests. It failed the two HD HQV tests entirely: It let straight lines become jagged under certain conditions, and it had difficultly distinguishing moving and stationary objects. This may account for some of the lack of detail we noticed. It did only slightly better on tests that show how an HDTV handles horizontal and diagonal pans.
On the other hand, the LT-46J300's sound is about as good as a television can get. The sound at 80 percent volume (full blast was too loud for my physical comfort) was loud and free of distortion. The dynamic range was wide enough to give a sudden transition from dialog to a loud organ blast the emotional punch it needed. And the simulated surround was so good that it almost fooled me a couple of times. Of course, no TV can to do justice to today's 5.1 movie sound tracks; those require a good receiver, a large subwoofer, and at least five satellite speakers properly placed.
Setting up the LT-46J300 is no picnic. The input connectors are poorly placed, making it difficult to attach your devices, such as a DVD player or DVR, to the TV. All of the input connectors except the USB port are on the rear, well away from either side, forcing you to really get behind the TV to plug anything in (most sets today put a few inputs on the side for easy access, and the rest on the back, near the side, where they're still reasonably easy to reach). Worse, the HDMI and coaxial connectors—two of the connectors you're most likely to use—are in a recessed area, facing down, making them particularly difficult to access. Fortunately, once everything is plugged in, the rest of the setup is relatively easy, thanks to an onscreen wizard that helps you with basic setup, asking if you'll be using the set at home or in a store (it'll optimize your TV's settings accordingly), and scanning for channels.
And once set up, this TV isn't easy to use. The on-screen menus put a lot of information on the screen at one time, including some very useful explanations. Unfortunately, those menus are difficult to read because they're displayed in a small font size. Changing inputs (for example, going from the LT-46J300's tuner to a DVD player) requires learning the steps: It's not obvious to the average person that the remote's V1 button takes you to the first HDMI input, while V4 takes you to the first analog connection—and that after you select it you'll still have to choose between composite, S-video, and component video. I had to experiment to figure out how to get back to the TV's own tuner (either the Return or Channel button will do it).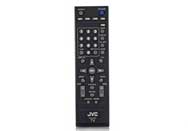 The small, simple remote makes the set a bit easier to use, even if it lacks playback control buttons (Play, Pause, Chapter Skip, and so on), meaning it won't do much good controlling a DVD or Blu-ray player. Thanks to its small size, nothing is really difficult to get to. It's not backlit, but it's reasonably easy to differentiate buttons by touch.
You can view photos off a flash drive or external hard drive via the LT-46J300's USB port (which, unlike other inputs, is fortunately located on the side). The set has a slideshow feature, but it lacks transition effects and can't play music alongside a photo slideshow. That's hardly surprising, since the LT-46J300 cannot play music (or videos) off a USB device.
JVC LT-46J300
| | |
| --- | --- |
| Performance | Poor |
| Features | Very Good |
| Design | Fair |
Scale = Superior, Very Good, Good, Fair, Poor
According to our lab tests, this Energy Star 3.0-compliant TV burns about 106 watt-hours when on and 0.6 watts when turned off. That's pretty good for a 46-inch set.
Macworld's buying advice
If you're looking for a large TV at a bargain price, the LT-46J300 will look very tempting. But there are other HDTVs that produce better image quality at a similar price.
[ Lincoln Spector is a contributing editor for PC World.]