Toon Boom Animation on Monday announced Toon Boom Animate Pro and Toon Boom Manager, two new products for animation professionals.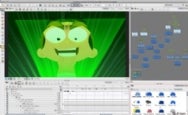 Priced at $1800, Animate Pro incorporates content creation, animation and compositing tools in one package. The software lets you animate digitally or import content from paper, and combine the two with tweening and cleaning tools. It also features multi-plane (three-dimensional) camera support with the ability to move, scale and rotate elements; use symbols and pegs; add sparkling effects and compositing, adapt the user interface and more.
System requirements for Animate Pro call for Mac OS X 10.5 or later, 2GHz Intel Core Duo processor or faster, 1GB RAM (2GB recommended), 300MB hard disk space, OpenGL video card with 128MB VRAM, 1280 x 1024 resolution.
Manager is intended to help animation workflows track the progress of production in real-time. Both Manager and Animate Pro are part of Toon Boom Animation's Harmony, a team-based infrastructure for animation production.