Macware on Tuesday announced the release of DiskTools Pro, a new utility for Mac OS X users that helps to diagnose and repair hard disk trouble. It costs $80.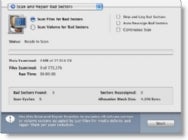 DiskTools Pro — developed for Macware by Intech, makers of SpeedTools — features bad sector detection and repair, file defragmentation, S.M.A.R.T. status monitoring and analysis, bootable disk backup with automated scheduling and other features.
The software can test and repair multiple volumes at once, and includes full multi-user support without requiring a user to first log in. What's more,t he software won't damage your system if a power failure occurs while the tools are running.
System requirements call for Mac OS X 10.3.9 or later, G4 or faster, 256MB RAM and 80MB for program installation.