Movaic on Tuesday introduced the iZel, a new foldable stand designed to work with the iPhone, iPod touch and other portable devices. It costs $25.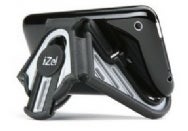 The iZel is a portable stand manufactured from a slip-resistant elastomer material. It's designed to position the iPhone or iPod touch at an angle to a horizontal surface, as a "digital picture frame."
The iZel's arms can be repositioned so you can view the iPhone either in landscape or portrait orientation.