As you saw in Playing go on the Mac, there are a number of ways you can enjoy the strategic board game on your Mac, whether it's using software to play against your computer or to play against others via servers. But you can also use your iPhone or iPod touch to play go on one server, IGS, the Internet Go Server, using Tetsuki, a free program.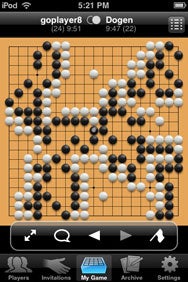 While Kris Van Bael's Tetsuki doesn't do a lot, it does what it does very well, providing a client for playing go on IGS, an archive of games, a way to e-mail games you've played to yourself or to others, and even a way to play against a friend using your iPhone or iPod touch as a board.
To be able to use the program for Internet play, you need to set up an account on IGS, which you can do from the IGS Web site. (Tetsuki only works with IGS or other servers that use the same protocol; there are no other major servers that use that protocol. Unfortunately, the other main non-Asian server, KGS, does not have an open protocol.) Enter your user name and password in Tetsuki's settings, then, each time you launch the program in the future, you'll log in under that user name. (If you don't enter this information, you'll connect as a guest.)
Tetsuki then displays a list of players connected to the server in order of their rank, from Beginner Class (IGS's lowest rank) to high dans. (For those unfamiliar with go, the ranking goes from 30 kyu, absolute beginner, up to 1 kyu, then from 1 dan to 9 dan.) Icons show you whether a player is looking for a game (a black dot), accepting games (no icon), not looking (a gray "do not enter" icon), or playing (a picture of a goban). You can invite a player by tapping on their name then tapping Invite to a game, or you can watch a game by tapping on a player's name if the goban icon is present. Many people connect to IGS to watch games, especially by strong players, or by professionals when IGS broadcasts games, so this latter feature is essential. And, while watching games, you can send and read "kibitzes" or comments about the game, though you can't turn off the kibitz display.
When you're in a game, you see the entire board, and, below it, a small bezel with some commands. You can tap a zoom button to zoom in or out or a chat icon to send a chat message to your opponent. You can also go back or ahead if you're watching a game or viewing a game from your archive, and a flag icon lets you pass or resign, when you're playing a game.
The zoom feature is especially clever, and is essential for playing on the iPhone. If you couldn't zoom, you'd end up playing moves in the wrong locations, if only because of the limited amount of space available in full-board mode. Tapping the zoom icon shows you a close up of an 8-by-6-line position; you can then drag the board around, letting you examine it better, and play your move precisely. There's also a setting that tells the program to zoom out automatically after you play a move, which is very helpful. Finally, after your game is over, it gets stored in your archives, and you can e-mail a copy of the game record, in SGF format, to yourself.
Tetsuki is limited to playing go or watching others play; you can't play against the device. The program works smoothly, but I had a number of connection issues. I experienced occasional dropped connections when using it, even in Wi-Fi mode a few feet away from my router. You can resume your game when you get disconnected, but it's annoying, and opponents may not like it if it happens several times in a game. (It makes them think that you might be an "escaper", someone who runs away from games they're losing. In addition, IGS punishes people who disconnect often.)
But given that Tetsuki can allow go players to get games in locations where they may usually not be able to, it's a boon for those who want to play a lot when they're away from a computer. And the price—free—is right too.
Tetsuki is compatible with any iPhone or iPod touch running the iPhone 2.1 software update.]
[Kirk McElhearn is a senior contributor to Macworld. He spends a good amount of his leisure time playing and studying go. He plays mostly on KGS under the name "Dogen," and he has a very nice go set.]