If you've found yourself a little sick of Mac OS X's default theme—maybe you just need a change, maybe a gray day's got you down—then look no further than Magnifique. This app is a free download that lets you re-skin your Mac's windows, menu bar, and Dock.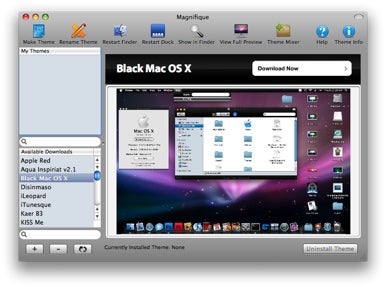 So where do you find new themes? Magnifique makes it easy: there's a downloader integrated in the program, so you can browse through a list of themes and even preview any of them before applying.
If you change to a new theme and decide that you don't like it, you can always go ahead and remove it again (as when dealing with any app that messes with your system, it's good to make sure you have a current backup, just in case). And if you like the window style in one theme but the Dock from another, you can mix and match to your heart's content. Those who like to create their own themes (which they'll have to do with other tools) can also use the program to package their theme into Magnifique's open format.
This brings me back to the days of OS 9 when you could easily change the appearance of your Mac) (oh, Hi-Tech, how I loved your sleek futuristic-to-a-1990s-teenager aesthetic). A similar feature was touted for Copland, one of the projects that was eventually superseded by Mac OS X, which itself offers little in the way of theming, beyond the paltry ability to choose between the Blue or Graphite appearances. And here I thought we'd come a little farther since Henry Ford.