If you play go, you probably know that you can improve your strength by doing go problems and playing through pro games. SmartGo touch from Smart Go is an excellent tool for go players looking to improve their skills at the strategy game as well as record games that they play in their local club or in tournaments for later review.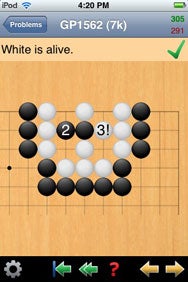 SmartGo touch has three sections: game recording, which lets you record your games and access them from a list; Pro Games, which is an archive of more than 10,000 games by professionals; and Problems, with more than 2,000 problems for go players of all levels.
To record a game, you choose the board size, handicap and komi (the extra points that white gets in exchange for black playing first), then tap OK. You see a go board where you can record your moves and your opponent's moves. Since the board is small, SmartGo Touch lets you zoom in two ways. One uses the standard open-pinch gesture to enlarge the board; in this manner, you can drag the board around, and pinch open and closed to change the size of what you see. The second method is a tap-and-hold; at this point, a small "magnifying glass" enlarges a round section of the board. Move your finger until a stone is above the point where you want to place it, then release. After you've finished, you can e-mail your recorded games to yourself and your opponent, but, unfortunately, you can't add other games to your archive.
The Problem section contains more than 2,000 of the more than 12,000 problems available on GoProblems.com, a Web site that allows users to add their own problems of different types and different levels. Doing go problems is one of the best ways to improve one's skills, and SmartGo Touch lets you play through them, with the iPhone or iPod touch playing out the move trees. Problems are accessible by estimated rank, and there are also two sections entitled Cool Problems and Life and Death.
The Pro Game archive may be the best part of the program, at least for those go players who study by playing through the games of go luminaries. The 10,000 games include all of the games of Shusaku, 750 games by Go Seigen, more than 700 games by Yi Ch'ang-ho (Lee Changho), and nearly 900 games by Takemiya Masaki (my personal go hero). To play a pro game, you can choose from different types of games, such as half-point wins and resignations; or you can choose by year, from 1800 to 2008. You also can display a list of players and choose from all their games. For example, a search feature lets you find games by two specific players, but it would also be good to be able to search for specific criteria, such as a player who won playing black.
When you play back a game, you can either tap arrow icons to move ahead and back, or you can tap and hold the right-arrow icon to start playing the game back at one move per second. You can then stop when you see a position you want to examine more closely, then restart the one-second playback. You can tap the plus (+) or minus (-) icon to speed up or slow down the playback. You can also drag a slider to scrub through a game. One feature that's missing here, though, is the ability to choose a game at random for playback, either by a selected player or from the entire library. It might also be nice to be able to mark games you've already played through and especially those you found to be interesting.
SmartGo touch is an excellent program for studying go. For go novices, it would be nice to have a go-playing engine to play against; the developer, Anders Kierulf, told me this would be added to the program's next update, together with more pro games. The program is attractive, with nice 3-D effects on the stones, and a wooden board image, and the two ways to zoom make both recording games and playing them back easy and useful. This is a must-have study tool for go players.
SmartGo touch is compatible with any iPhone or iPod touch running the iPhone 2.x software update.
[Kirk McElhearn is a senior contributor to Macworld. He spends a good amount of his leisure time playing and studying go. He plays mostly on KGS under the name "Dogen," and he has a very nice go set.]