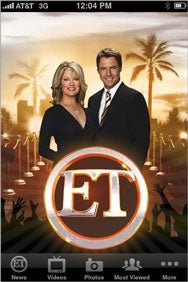 CBS on Tuesday released Entertainment Tonight, a new application for iPhone and iPod touch users that is based on the popular television show of the same name.
Using the application, users can get the latest news stories, interviews, videos and photo galleries. The application features a tabbed interface allowing you to browse through information from ETOline.com.
The app also gives you the option to share stories and videos, and rate articles. You can also use the iPhone's "swipe" feature when viewing photos to bring up a full screen view.
Entertainment Tonight is available free from the App Store.