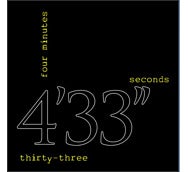 Have you ever listened to music? I mean, really listened. The subtle sounds of melody, harmony and, arguably just as important, the use of silence—or, if you prefer the technical term, "not music." If you've always taken the absence of music for granted, then today is your lucky day to see what a true master can do without playing a note.
This week, iTunes is presenting the first movement of John Cage's seminal 4'33" as a free Discovery Download (iTunes link). The work takes the idea of "not music" and elevates it to a previously unheard of level. Just ask yourself—without Cage's work, would Simon & Garfunkel have ever felt it necessary to explore the sound of silence?
If you find yourself captivated by Cage's work, you can also purchase the rest of 4'33" on iTunes and revel in the full 4 minutes and 33 seconds of "not music"—which, as it turns out, is sometimes the most musical thing of all. Kudos to the iTunes team for taking this daring step for bring art to the masses.