Smack Me brings the obnoxious, demanding fun of toys Bop It to the iPhone. Like that handheld game from Hasbro, Smack Me barks enthusiastic orders to you with a funky backing beat. Your job is to do what Smack Me tells you to do, quickly and accurately, as the game gets progressively faster. In other words: This ain't chess.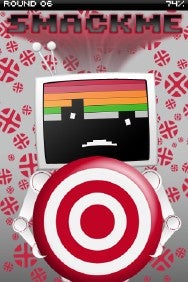 But it's not supposed to be, either. Smack Me provides one to three minutes of goofy fun per game, and it's fun and funny to play. When the game yells "Smack me!," you tap the screen. If it yells "Pinch me!," you pinch it (although the game lets you get away with a two-finger tap). And when the game yells "Shake me!" — well, you can figure it out. Shake when you should be pinching, or make any other mistake, and you lose. But if you get through all of the instructions without an error, you can claim victory.
Beating the Easy level unlocks Medium, and beating Medium unlocks Hard. The latter two levels add additional actions: "Freeze me!" requires that you keep the iPhone still, and "Lift me!" instructs you to raise your phone. Smack Me annoyingly doesn't always recognize my lifting action, so I've lost more than my fair share of games prematurely.
My only other big gripe is that Smack Me is too forgiving with the "Smack me!" action. You can get away with the same two-fingered poke that satisfies "Pinch me," and that makes the game a bit easier than it should be.
Overall, though, Smack Me's a fun and well-assembled diversion. It looks good, sounds great, and plays quick.
[Lex Friedman is a Macworld contributor with his very own blog.]