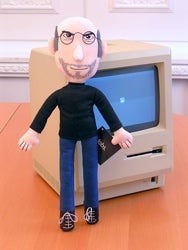 Did you miss out on those PodBrix minifigs back in the day? Maybe they were too expensive for your taste; maybe you didn't see the point to buying LEGO dioramas of Apple executives. If price was the object, you can now snag a Tomi-designed product for less than 30 bucks. And if you were turned off by PodBrix's sharp edges and cold, unfeeling plastic, you'll be pleased to know that Tomi's latest creation is a lovable, huggable plush doll of none other than Apple CEO Steve Jobs himself.
Tomi says that he created Plush Jobs as he always wanted a "cuddly" Jobs doll. The completely handmade a 17-inch high (that's 43 cm for you metric folks) doll CEO action figure sports Jobs's traditional black turtleneck, jeans, sneakers, and glasses, and sports a MacBook Air-era beard.
Unlike the previous minifig items, this product is not a limited edition, although there's an initial run of only 500 units. Tomi writes: "If people like him, we will make more."
Plush Jobs runs $28 (a most decidedly un-Applelike price tag) in addition to shipping. Will he ship outside the US? Fear not, writes Tomi. "Jobs loves to travel."
Note: When you purchase something after clicking links in our articles, we may earn a small commission. Read our affiliate link policy for more details.