Zork, the legendary text-based adventure game that entertained an entire generation of computer gamers, has made its return — this time as a casual massively multiplayer graphical adventure game that you can play from your Web browser. It's called Legends of Zork.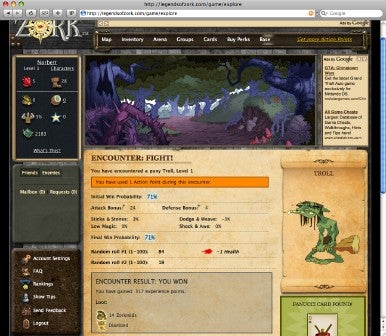 First announced in January, Legends of Zork is the production of Jolt Online Gaming. It's a very different experience than previous Zork games — gone is the text-driven interface that describes where you are and what you are doing.
In its place is a graphical interface that lets you interact with the world of Zork by pointing and clicking — not in a Myst-style way, but more akin to the adventure games that populate Facebook and other social networking Web sites.
You can visit all the haunts made famous in the Zork games, battle foes, collect treasure, and turn your loot into cash that you can then use to upgrade your offensive and defensive capabilities. You can create different characters — male or female — each with different names and skills.
The game is free to play. Safari 3.x or later or Firefox 3.x or later is required.