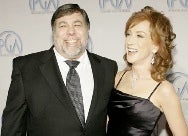 All good things must come to an end, but what about things that that are equal parts bizarre, funny, and surreal? Well, those must end as well. And so we sadly announce the elimination of The Wizard of Woz from ABC's reality show, Dancing with the Stars.
Woz put up a damn good fight for four weeks, surprising most with his tenacity and staying power. But you can only slide by on innocent charm and hardcore fan votes for so long. After consistently earning the lowest score during the show's four weeks of competition, Wozniak was finally voted out.
Wozniak wasn't the only one who got dumped last night; former Playboy cover model Holly Madison also got the hook, marking the first double elimination of the season.
Ironically, the Wozster, who made news for his disparaging comments about the show's producers and judges, had nothing but nice things to say when he found out he was eliminated. "This is a great show, a great voting system even, and the right thing happens," he quipped, seemingly unfazed by the turn of events. He also said that dancing on the show made him feel like "the luckiest person in the world."
So how did the Woz's Argentine "peep show" tango number go? Well, it was actually an improvement over last week's samba. Of course, that wasn't saying much as, according to the frightfully frank judge Len Goodman, "last week was so terrible that almost anything that happened would have been an improvement." Ouch. Judge Bruno Taglioni was, if possible, even less complimentary: "The tango originated in the ghettos of Buenos Aires. The only right thing you picked up is the stench because this really stunk!"
Woz and his dance partner were awarded 12 points out of a possible 30 for the tango, which was indeed a two-point improvement from the week before.
It's been a wild and wacky four weeks for the Woz and his followers. One can only wonder what lovable craziness he'll get himself into in the future. Until then, Apple's media holiday is officially over, with all Apple-related attention turned back to the company itself. Let the rumors, predictions, and speculations recommence with full vigor.
You can find the video of Steve's elimination after the jump, but the tearfully inclined will have to provide their own tissues.
Read more…