Apple has recently updated its online seminar offerings with Accounting and Enterprise Resource Planning (ERP) sessions.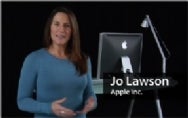 The free, 30-minute online seminars have been developed to help business owners and others who use Macs in business to find out more about how specific Mac-compatible software products can help them save time and enhance productivity.
Five seminars have been developed to highlight the capabilities of five different business accounting and ERP products. Among them is QuickBooks, the popular accounting software for small businesses; AccountEdge, the accounting, payroll, Point of Sale (POS) and business software for up to 50 users; MoneyWorks, a collection of products for small businesses and larger businesses with more than 20 concurrent users; AcctVantage, a cross-platform, integrated ERP system for businesses that have heavier inventory needs and up to 50 concurrent users; and PowerEasy, a scalable software product for companies that need to integrate financial reporting and tracking with inventory, sales, purchasing and time and billing.
The seminars require QuickTime 7.4 or later, a Web browser that accepts cookies, Java and JavaScript, and a fast Internet connection.