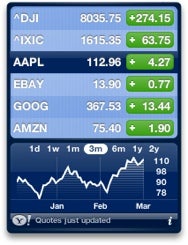 You may know April 22nd as Earth Day, but this year, that particular Wednesday also plays host to another auspicious occasion. And we're not just talking about the sixteenth anniversary of the launch of Mosaic 1.0, the first GUI Web browser—although we wouldn't be adverse to having some cake in remembrance.
That aside, Apple's announced that it will be holding its quarterly financially conference call on the 22nd, at 2PM Pacific, 5PM Eastern. The results reported will be for the second quarter of the company's fiscal year 2009, which covers the first three months of calendar 2009. We expect Apple COO Tim Cook and CFO Peter Oppenheimer to be on hand to give us the results, field questions, and repeatedly remind us that Apple does not comment on future plans and whether or not they entail world domination.
Economic times being what they are, Apple's figures will be a matter of much scrutiny. So far the company has held up pretty well, despite the state of the market at large, but you can bet that—regardless of what Apple announces on the 22nd—someone will claim that the company is wiping its feet on the welcome mat of Death's door (which, incidentally, looks like this—oh, that Death, such a kidder).
As always, we'll have live coverage of the edge-of-your-seat thrill ride that is Apple's financial conference call. We hope you like numbers. A lot.