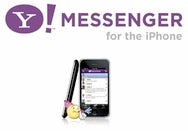 Given the state of Yahoo Messenger for the Mac—an app that's been around for years and doesn't support features like video conferencing to this day—I hadn't expected Yahoo to take the iPhone too seriously as a new platform. However, it seems that my presumptions were misguided because Yahoo is now gearing up to launch Yahoo Messenger for the iPhone.
The company announced the impending release of the app a couple of days ago at CTIA Wireless 2009 and has since posted a video of the app in action on their blog. Going by the level of polish displayed in the video, it seems reasonable that it's close to release.
The video gives a quick rundown of all the features the app will provide. It looks like they've covered most of their bases: you can send and receive instant messages, look at your buddies and their statuses, change your own status (and even make yourself invisible), see an archive of your recent conversations, and send and receive pictures or even free text messages (at least within the United States).
Given the tie-up between Microsoft and Yahoo with regards to their messenger networks, there's a strong likelihood that Yahoo Messenger for the iPhone will allow you to strike up a conversation with your buddies on the Live Messenger network as well. Although there doesn't seem to be any support for voice or video conferencing (neither much of a surprise), the features they do have look pretty well implemented and designed. I look forward to getting my fingers on it.
[via Ars Technica]