gCalWall is a mouthful to say, and a handful to use. It's a brilliant idea marred by Apple's own limitations for iPhone developers, which prevent the app from delivering on its promise.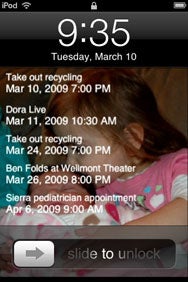 The promise of Respiratory Data Solutions' gCalWall app (and its free, feature-limited companion gCalWall Lite) is appealing: It takes upcoming events from your Google Calendar and displays them atop your iPhone's wallpaper. That way, you can see your upcoming appointments without even unlocking the iPhone. (And a recent update added support for multiple calendars.) That, in theory, can save a lot of swipes and taps if you want to know your schedule at a glance.
The two key words: "In theory." Apple's limits on what iPhone developers can do squash gCalWall's usefulness. First, gCalWall can't fetch your upcoming calendar events in the background. Instead, you must relaunch the application to get it to sync with your Google Calendar to keep it current. It can't bubble completed events off your list automatically, and it can't grab new ones, either.
That's not the only disappointment. Again because of Apple-imposed limits, gCalWall can't update your wallpaper itself. It generates an image and saves it to your iPhone, merging a photo of your choice with your upcoming events. (In the free Lite version, events appear on a solid black background.) But to set that image as your wallpaper, you must quit gCalWall, go into Settings, tap General, tap Wallpaper, navigate to the gCalWall image, and finally set it as your background.
Re-running the app to keep it current is an annoyance. Running through all the necessary steps to keep resetting your wallpaper (all the while adding more and more pictures to your iPhone) renders gCalWall too burdensome to bother.
gCalWall is compatible with any iPhone or iPod touch running the iPhone 2.2 software update.
[ Lex Friedman is a frequet iPhone Central contributor.]