At first glance, Galcon from galcon.com kind of reminded me of an older PC game called Homeworld. Both are fast-paced games that involve taking over a galaxy of planets and both feature a somewhat similar graphic style.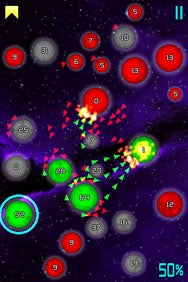 That's as far as the similarities go though because, unlike Homeworld, Galcon is much simpler and much easier to jump into. It's also one of the few games for the iPhone and iPod touch that allows for multiplayer games over the Internet.
Galcon is sort of like a high speed game of Risk with planets and spaceships. The goal is to take over all the planets that are controlled by the enemy. You do this by tapping a planet or series of planets you control and then tapping another planet to send a percentage of ships to that planet. You can take over planets that aren't controlled by an enemy so long as you send enough ships or you can choose to attack a planet that is controlled by an enemy. Once you take over all the planets controlled by the enemy, you win. Galcon has up to 10 different levels of difficulty and six different game styles including Net Game, which allows you to play others online.
About the only complaint I have about Galcon is that there isn't any automated way to play continuously and slowly advance to higher levels. Basically, you play at one level in a particular game style repeatedly until you get sick of it. Also, the first five levels seem a little easy. I honestly didn't notice it to be much of a challenge until I reached level five. The difficulty between level five and six seemed pretty dramatic too. If the slope of difficulty between levels was a little smoother it would make for a much better experience.
Aside from any complaints, Galcon is still a very entertaining game. (And a free version lets you try things out with the game's Classic mission.) Because most games only last about five minutes, you can jump in and play a quick round pretty easily when you want to have a little fun and pass the time. Just don't do that when you're at a red light. That's dangerous.
Galcon is compatible with any iPhone or iPod touch running the iPhone 2.x software update.
[Jeff Whitfield is a Web developer out of Dallas, working on the open-source MODx project.]