At a Glance
Expert's Rating
Pros
Wider angle lens than the competition
Good capacity
HDMI output
Three shooting modes
Cons
Blue/green cast to indoor shots
Movies can be very bright
Our Verdict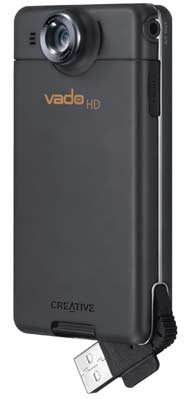 Following the release of the Kodak Zi6 ( ) and Pure Digital's Flip MinoHD ( ) comes another pocketable 720p HD camcorder, Creative Labs' Vado HD. Sized similarly to the Flip camcorder, the Vado HD offers more shooting options and storage than the Flip camera, includes a replaceable proprietary battery, bears a larger LCD display, and shoots wider than either the MinoHD or Zi6. While these are attractive features, the quality of the camera's videos is variable.
Similarities and differences
Like other pocket camcorders, the Vado HD lacks image stabilization and an optical zoom (it has a 2x digital zoom) and offers no control over white- or color balance. It has 8GB of flash memory and a proprietary removable battery. Like other pocket camcorders it features a single record button and a four-position switch for zooming, adjusting volume, and navigating from one saved clip to another. It also has Play/Pause and Delete buttons on the back of the camera. The 2-inch (measured diagonally) LCD serves as both the viewfinder and the playback screen. The Vado bears a USB connector at the bottom of the camera, a microphone in the front, and a speaker in the back. It includes not only the expected composite video port for connecting the camera to a TV, but also an HDMI port—a feature unique to the Vado. (The HDMI cable is included, but a composite cable isn't.)
Like the Flip camcorders, the Vado's editing software is planted directly on the camera—plug in the camera and install it on your Windows PC. That's right, Windows PC. Regrettably, unlike with Pure Digital's FlipShare software, the Vado's Creative Vado Central editing and sharing software is for Windows only. Given that Mac users will invariably employ iMovie to edit their video, this isn't a terrible loss. Note, however, that in order to use the Vado HD on a Mac you need to install the free Perian QuickTime plug-in, as the Vado's native encoding format isn't compatible with QuickTime.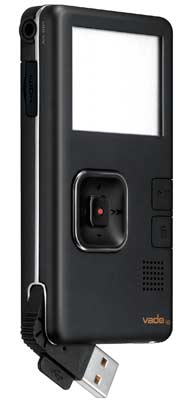 The Vado HD supports three shooting modes—HD Plus, HD, and standard definition video. Unlike the Kodak Zi6, whose HD60 enhanced HD mode shoots 1,280 by 720 video at 60 frames per second, the Vado's HD Plus simply shoots 720p video at a standard 30fps, but at a higher data rate—around 8.4 Mbps. In standard HD mode the data rate is about half that. Higher data rates generally result in better looking video and the Vado's HD Plus does look better than regular HD. Impressive though this may seem, it's worth noting that while the MinoHD has a single shooting mode, it shoots HD video at almost 10.5 Mbps. Creative claims you can shoot up to two hours of HD Plus footage, four hours of HD video, and eight hours of footage in standard definition mode.
The look and sound
The first thing that strikes you when comparing video shot with the Vado HD and Kodak Zi6 and Flip MinoHD is the Vado's wider angle lens. From the same distance, you'll get more in the frame with the Vado. This could come in handy when shooting in tight quarters but also may force you to get closer to your subject than they're comfortable with so you can avoid using the zoom.
The next thing you notice is that the Vado's video is very bright. If you're shooting near a bright light source—a window or outdoors under direct sunlight, for example—light colored objects tend to get blown out, particularly if there are dark objects in the frame. Without a lot of direct sunlight, the video looks reasonably good for a pocket camcorder.
Shooting under indoor lighting is always a challenge for these small camcorders and the Vado is no exception. This camera tends toward cooler tones (blue and greens) when shooting indoors under artificial light. It's not unusual to see the edges of the frame tinted light green when they should be a dim white. I appreciate the advantage of a blue tendency making subjects shot under indoor lighting look more natural, but the Vado goes too far.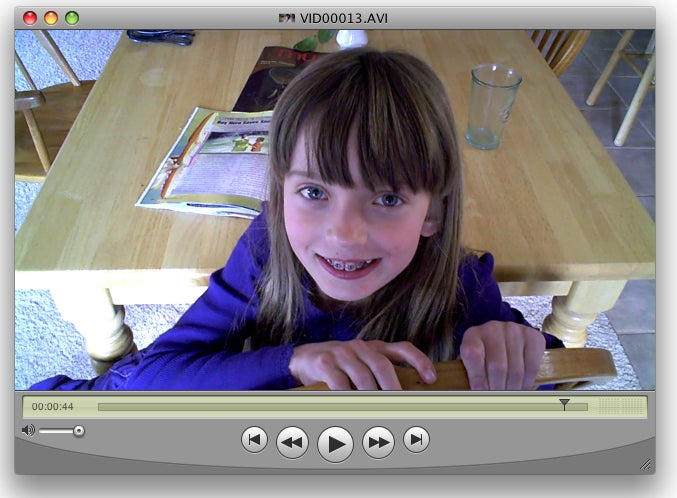 The 2X digital zoom produces pretty much what you'd expect from a pocket camcorder's digital zoom—fairly blocky video that gets worse as you move the camera. It's there if you need it. You just hope you won't need it very often.
The Vado's mono microphone is about as sensitive as the one found on the Flip MinoHD. The Kodak Zi6's mic is far more sensitive than either the Vado or Flip's microphone.
Macworld's buying advice
Every high-definition pocket camcorder, including the Vado HD, has its quirks and charms. Among the Vado's quirks are its too bright video and too cool tone. Its charms include good capacity, three shooting modes, wider angle lens, and HDMI output. At a retail price of around $215 it's the most expensive pocket camcorder in its class (Amazon.com sells the Flip MinoHD for around $206 and the Kodak Zi6 for $150 without SD media). If I were on a tight budget, I'd go with the Kodak Zi6 as it provides reasonable flexibility at a good price. If money is less of an object and you can manage it, it's worth your while to lay hands on each camera, shoot a little video, and see which best fits your needs.
[Senior editor Christopher Breen is author of The iPhone Pocket Guide, third edition and The iPod and iTunes Pocket Guide, fourth edition (Peachpit Press, 2008).]