Puzzle Lab has announced the release of Leeloo's Talent Agency, a new time management game for Mac OS X and Windows. It costs $20, and a demo is available for download.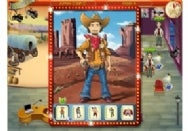 Leeloo dreams of becoming an actress, but her parents make her study economics so she becomes a show biz talent agent instead. Now you're in charge of helping Leeloo turn her talent agency into a bustling success.
Like other time management games, Leeloo's Talent Agency focuses on having you do multiple things in series successfully: Hand out scripts, apply makeup, film screen tests, sign contracts and place the right photos in the right magazines.
System requirements were not posted as Macworld posted this article, but the Web site describes the game as being a Universal binary.