App4mac has announced the release of Presto 1.0, a text expander utility for Mac OS X. It costs €9 (US$13).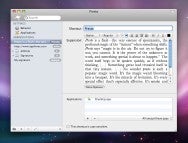 Presto lets you define abbreviations for frequently used phrases. When you type the abbreviation the full phrase is inserted. The abbreviations are available to you at all times, in any application.
It lets you insert standard or formatted text, can handle long phrases, lets you organize abbreviations into groups, will automatically import from Rapidowrite—a freeware utility upon which Presto is based, features animations, lets you disable Presto with specific applications, and works in English and French.
System requirements call for Mac OS X 10.5.
App4mac notes that with the release of Presto, the freeware application Rapidowrite has been discontinued.