Kepmad Systems has announced the release of ImageBuddy 4.0, a new version of its photo printing software for Mac OS X. It cost $19, but the upgrade is free for registered users.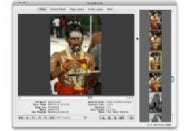 ImageBuddy helps users rotate, size, crop, mask and layout digital photos for printing. ImageBuddy supports drag and drop printing and layout from iPhoto and Aperture.
The new 4.0 release adds optional support for "raw" digital camera file formats by using Apple's own Core Image rendering engine. ImageBuddy also improves Exchangeable Image File Format (EXIF) support — digital cameras store metadata in EXIF tags about when the picture was taken, what settings were used, and more.
System requirements call for Mac OS X 10.4 or later.
[Editor's note: Due to a reporting error it was originally stated that ImageBuddy can do drag and drop printing and layout from iPhone — it is iPhoto, and that has been corrected.