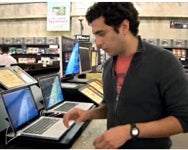 Microsoft's new ad campaign continues with a second installment of an average Joe—or, I guess, an average Giampolo, in this case—looking for a laptop. Unlike previous candidate Lauren, Giampolo bills himself as "technically savvy," so Microsoft offers to buy him whatever laptop he finds for $1,500 or less. Where does it end, Microsoft? Will you buy a laptop for everyone in the world?
As with Lauren's adventure, Giampolo decides to check out a Mac during his shopping spree by manhandling a MacBook, which he calls "so sexy." Ultimately, of course—surprise!—he decides Macs aren't for him, because "Macs, to me, are about aesthetics more than they are the computing power." He goes on to say "I don't want to pay for the brand, I want to pay for the computer." So for those keeping score at home, that's 1) Macs are more expensive and 2) Macs aren't very powerful. This is like a greatest hits compilation of Mac gibes. What's next, Microsoft: Macs can't run PC software? (Actually, I'd stay away from that one if I were you, guys.)
There's not a lot here to say that we didn't already say about Microsoft's first ad—in fact, the "plot" of this second spot follows the first almost identically: Microsoft offers money for laptop, person looks for laptop, person considers a Mac but decides not to buy (in the process making a backhanded compliment), person buys an HP laptop. And the dreaded word "Windows" is never mentioned.
Nothing here is surprising, and frankly, nothing here even really needs responding to. These are advertisements: of course they're skewed to present a certain reality. So are Apple's and every other company's. Still, it's fascinating to see Microsoft continually acknowledge Apple as its major rival—five or ten years ago, MS wouldn't have even bothered. It makes sense for Apple to present itself as the scrappy upstart—that works for them. I don't know that anyone buys Microsoft as the underdog.
If nothing else, I think these ads say to me that Microsoft is all too aware of just how prominent Apple's mindshare is—even if its marketshare hasn't reached threatening numbers. But no: Microsoft is worried enough that it's decided the potential danger of mentioning Macs in the ads is outweighed by the potential danger of not mentioning them.
Check the full spot after the jump.
Read more…