At a Glance
Expert's Rating
Pros
Built-in media player allows for computer-free presentations
30,000 hours of LED light
Cons
Mixed results with image quality
Low brightness
Our Verdict
Samsung's compact, 2.1-pound P410M projector has a total traveling weight of 4.2 pounds, thanks to its large accessory bundle (remote, cables, power adapter, and carrying case). This projector has a stylish design with its curvy, round edges and glossy black finish, and it offers an 800 by 600 (SVGA) resolution and a 30,000-hour lifetime for its LED light source.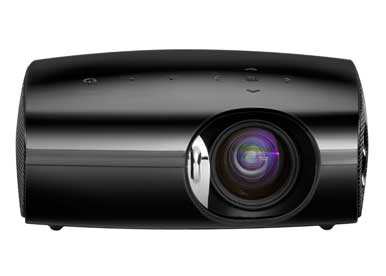 The P410M's features include a media player (via its integrated USB reader slot) for running slide shows, photos, videos, and music from a USB flash drive or other portable storage device, a remote control that sports media player buttons, and a brightness rating of 170 lumens. It also has a pair of twin 1.0-watt mono speakers that sounded better than most of the other projector speakers.
In image-quality tests, the P410M earned a rating of Good for its overall performance. Although it displayed legible lettering in most tests, its moderately low brightness made reading small, light-colored text on dark backgrounds difficult. In a PowerPoint slide, for example, a white footnote wasn't as easy to read here as it was with other projectors we've seen. In graphics tests, the SP-P410M turned in mixed performance. In some images it displayed oversaturated colors, such as skin tones that looked redder and grass that seemed greener than in the originals, while in others it rendered gorgeous colors, including bright autumn leaves, golden yellow sunflowers, and lush turquoise-blue water.
In DVD-playback tests, the P410M's knack for rich, vivid colors also delivered mixed results. The projector excelled in capturing the vivid colors prominently used in Speed Racer, but it was less successful in rendering the gritty earth tones and muted colors in Quantum of Solace. Even when we switched to different preset display modes, the P410M continued to show more color saturation than was usually present in the original image.
The P410M's most impressive feature is its built-in USB reader port, which gives it the ability to act as a stand-alone projector without a computer attached. In testing this feature, we found the P410M impressive in its ability to play media from a USB flash drive. It did well at displaying PowerPoint slides, although it can show slides only as still images, with no animation or special effects (such as flying text bullets). On top of that, it was able to play a larger selection of image (including JPEG, BMP, TIFF,) video (MOV, AVI, as well as several others) and audio (including MP3, WMA) file formats.
The P410M has a single tilt-adjustment screw for lifting the projector's light beam to reach the screen, plus a tripod mount for more-flexible positioning. Inputs include VGA, composite video, and audio, but you get no S-Video or HDMI port. And DVI-to VGA or Mini DisplayPort-to-VGA adapters are not included, so you'll have to provide your own. The unit's fixed-focal-length lens (no zoom) is easy to focus, but its touch-sensitive control panel is small and slightly awkward to use. Fortunately, the remote is a breeze to use, so you can bypass touching the control panel altogether. The on-screen display isn't as extensive as those on larger models, but it includes six preset display modes and has all of the basic options you need to adjust the image and use the media player.
Macworld's buying advice
The Samsung SP- P410M is best suited for small-group presentations, in rooms where you can control the lighting to ensure that the screen is as viewable as possible. And even though it isn't cheap, its stand-alone ability to play computer-free presentations makes it most appealing to businesspeople who want to travel as light as possible.
[Richard Jantz is a freelance contributor.]