If you're serious about video, an HD camcorder is the only way to go. But if you take a lot more pictures than video and are in the market for a digital SLR camera, you might be able to pull double duty out of your next purchase.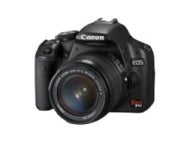 The $1,000 Nikon D90 not only is a very good camera, but also lets you record 1,280-by-720 video at 24p. Canon's $2,700 Eos 5D Mark II steps you up to full 1,080p resolution, and the company also recently released the $799 EOS Rebel T1i, the first digital SLR in its lower-cost Rebel line to include full HD video capture (720p HD video at 30 frames per second or 1080p HD video at 20 frames per second).
Sanyo also offers several options in its Dual Cameras series. The $500 Xacti VPC-FH1BK, for example, is both a 1080p AVCHD camcorder and an 8-megapixel digital camera (with the form factor of a camcorder). And the $200 VPC-CG10BK shoots 720p video and 10-megapixel stills, and includes a 5x optical zoom.
As the convergence of digital cameras and high-definition camcorders contiunes, you can expect to see more of these hybrid devices on the market.