At a Glance
Expert's Rating
Pros
IPod Classic-like touch wheel interface
New version features increased pressure sensitivity
Ambidextrous design
Programmable buttons featuring customizable LED display labels
Cons
For many users, new features may not merit upgrade from Intuos3 to Intuos4
Sub-$1,000 price tag on LCD-based Wacom Cintiq makes traditional tablets less desirable
Our Verdict
I know what you're thinking: it's hard to get excited about the traditional Intuos tablets now that Cintiq is on the scene. These days, buying a graphics tablet without a built-in pressure-sensitive LCD display seems about as novel as bringing home a big-screen standard-def TV for your home theater. But with the release of the Intuos4, Wacom proves that its veteran pro tablet line still has some new tricks in it yet: double the pressure sensitivity, a new iPod-style touch wheel interface, and programmable ExpressKey buttons complete with LED labels. All of this makes for better control and less reliance on your keyboard. The Intuos4 scores big style points for its new matte black look with gloss black accents. Southpaw sketchers will appreciate its reversible design, which ensures optimum usability for either lefties or righties via an easy selection in the driver configuration. And cable management is a breeze: the tablet is tethered by one pliable mini-USB cable, with the option to change cable routing to optimize your workspace setup.
The Intuos4 M (for medium) model, which I tested for this review, provides a roughly 9 3/8–by–5 3/4–inch drawing area, making its proportions a nice match for today's widescreen monitors. (The tablet comes in small, large, and extra large versions too.) The Intuos4 pen is very comfortable to hold, thanks to a soft rubber grip covering more than half of its length. As you'd expect from Wacom, the pen is wireless and you'll never need to replace a battery. The pen's DuoSwitch, which resembles a small rocker switch, resides beneath your thumb or index finger—whichever feels more natural. One slight squeeze on either end of the rocker is all it takes to right-click or double-click. And there's always the standby Wacom-style eraser nubbin on the other end should you make a mistake.
Offering a whopping 2,048 levels of pressure sensitivity, the Intuos4 is twice as responsive as the Intuos3 and currently available Wacom Cintiq models. Remarkably, it requires as little as a single gram of pressure to operate. The Intuos4 really struts its stuff when coupled with an app like Photoshop or Painter. Right out of the box, the Intuos4 will blow you away with the nuance you can deliver with an on-screen brush, especially when you take advantage of the Intuos product line's longstanding ability to recognize pen tilt. If you're willing to do a little homework working with brush dynamics settings in Photoshop, you can achieve very organic images without giving up the flexibility of working in the digital realm.
To further enhance the tactile experience of drawing, the Intuos4 comes with standard nibs, felt nibs, a spring-loaded stroke nib, and a flex nib, all of which are cleverly stored with a nib extractor tool in the provided shot glass-sized upright pen holder. As with past models, the Intuos also ships with a wireless tablet mouse for use on the tablet, featuring a clickable scroll wheel and four buttons—all programmable.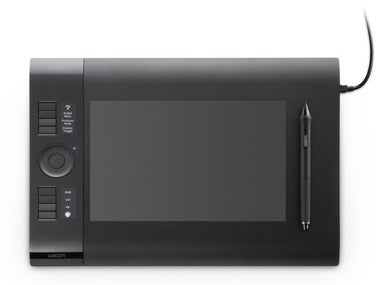 Longtime tablet users have come to expect programmable hot keys. Wacom's Intuos4 ups the ante by adding illuminated OLED (organic light-emitting diode) mini-displays that electronically label each key with its programmed function, either as text or an icon. Even better, the cool-white ExpressKey displays, which float beneath the gloss black trim strip of the tablet, instantly update to reflect different application-specific programmed hot keys as you toggle from app to app. (Note that the smaller Intuos4 S (small) tablet provides only six ExpressKeys and no corresponding displays.)
Another big addition to the Intuos4 is the Touch Ring, which resembles a concave version of an iPod Classic click wheel. At the ring's center is a toggle button that allows you to switch between four customizable states, each indicated by an LED. In Photoshop CS4, I found the Touch Ring presets incredibly handy for things like changing brush size and moving between layers. Likewise, in Final Cut Pro, I was able to program it to serve as an effective frame-by-frame jog wheel. Clever use of ExpressKeys and the Touch Ring can greatly minimize the need to jump back and forth between tablet and keyboard.
Successful driver installation was a breeze, and customization of the tablet's controls proved very intuitive. But be forewarned: realizing the full capabilities of the Intuos4 can take significant tinkering and experimentation with the settings within your specific graphic design apps.
In addition to the hardware, Wacom also bundles some significant software to use with the tablet, including plug-ins for Photoshop and several creative applications. I did not test those for this review.
Macworld's buying advice
Given today's economy, is Intuos4 worth the upgrade from Intuos3? Well, its new features certainly won't disappoint. Its customizable LED-labeled ExpressKeys will wow the gadget junkie, and its extreme responsiveness will astound any digital artist. With half of big brother Cintiq's cabling, twice its sensitivity, a sliver of its weight, and a fraction of its price tag, Intuos4 ensures its continued relevance as one of the most ergonomically easy-to-use pro-caliber tablets around.
[Tim Haddock is a writer and corporate communications professional living in Vermont.]